Tell us a little bit about yourself and your brand, Gone Limited. When did you get interested in clothing and the processes of making clothes?
My name is Carter, I grew up on the East Coast, New Jersey to be precise. I am currently living in Leadville, CO. My brand Gone Limited (@goneltd) initially started in 2013 as a creative endeavor experimenting with screen printing. My interest in clothing developed as a result of the early 2010's streetwear scene in New York City. The focus of the brand has now evolved into upcycled apparel and goods with an emphasis on environmentally conscious clothing. The production process has change to encapsulate sewing, printing, dyeing and constantly experimenting with new techniques.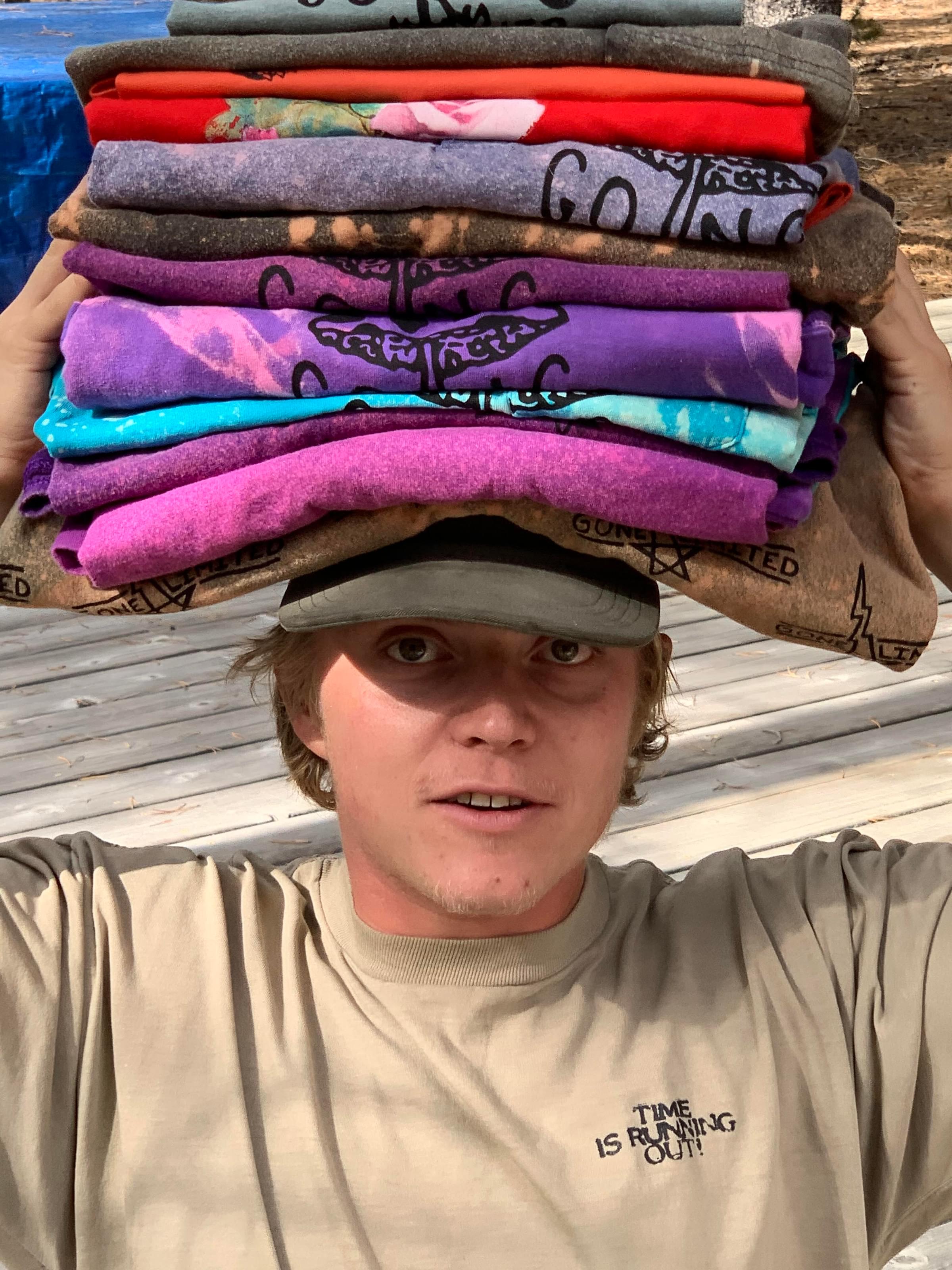 Now, you're not just making any clothes. You're working from excess and pre-used materials. Where did that idea come from? And why is that a priority for you?
Initially, the idea came from the desire to have more creative freedom during the production process. I am the entire production department at Gone Limited and was very tired of screen printing the same graphic on the same garments. Thrift stores were filled with blank t-shirts and garments that could be modified into something that feels new. Using pressed materials grew as a priority over time as I further understood the environmental impacts of textile manufacturing and fast fashion.
How does your location — where you and your studio are based — influence your projects?
In Leadville, the winter is long and people love being outside year-round. It's cold, and people want to be comfortable. I would not consider my brand to be a technical outdoor company — more so a leisure wear with aspects that appeal to an outdoor market. The activities I participate in influence my work greater than my geographic location. I draw a lot of inspiration from skateboarding, and it feeds my creative nature.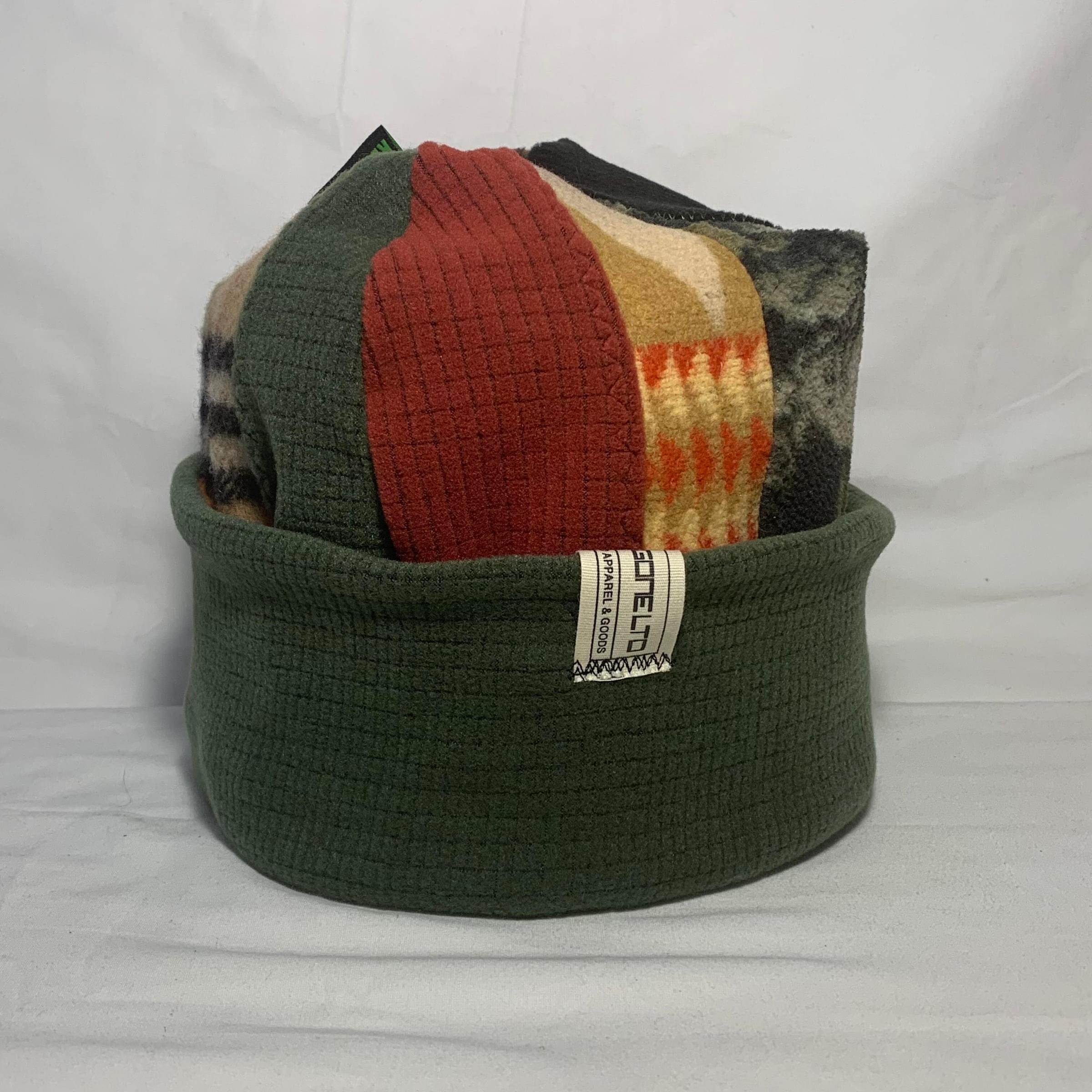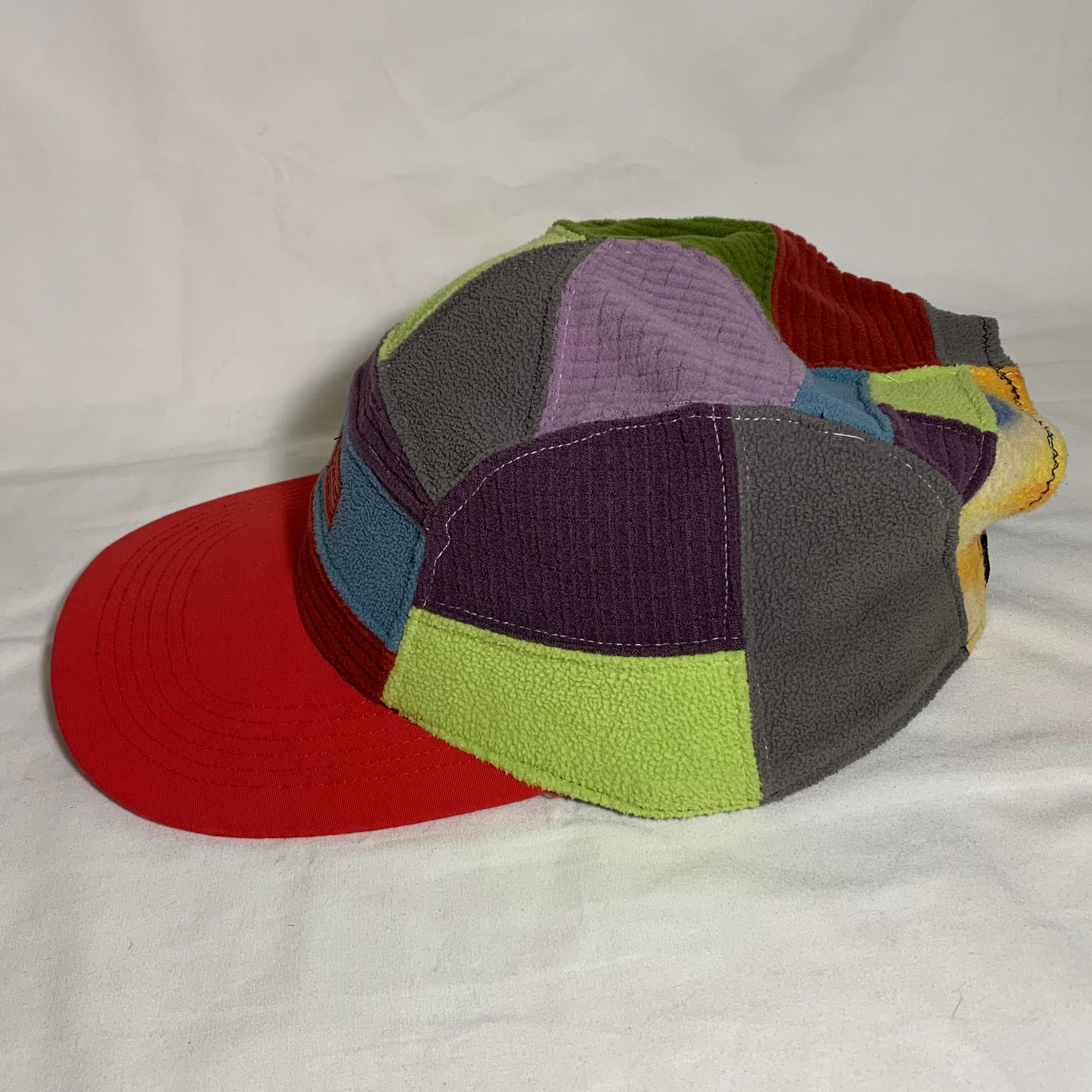 Talk to me about Melanzana. It's a brand that's known for playing hard to get, and its hoodies are wardrobe staples for many who live and recreate in mountain communities. How did your relationship with Melanzana start? And what does the process look like, from acquiring fabric to the final product?
Melanzana was developing their re-melly'd program, a program that provides scrap and flawed material to local creatives, and I was onboarded to the program thanks to their communication specialist, Louise. I receive the fabric from Melanzana either in whole rolls or smaller assorted pieces stuffed into a bag. From there the creative process begins, cutting the patterns and sewing together smaller pieces to make patchwork that can be used to make the beanies and other garments. Melanzana is a big name is Colorado, so the opportunity to be a part of something like this has been an incredible and invaluable experience.
Why hats?
In 2018, I started to develop a beanie pattern. The pattern was designed to make beanies out of old knit sweaters I would find at the thrift store. Once the Remelly'd program was started, I modified the existing pattern to work with the Micro-Grid fabric. I figured beanies were a good item to produce, because they used a relatively small amount of fabric, making the stuff that I got from Melanzana go further.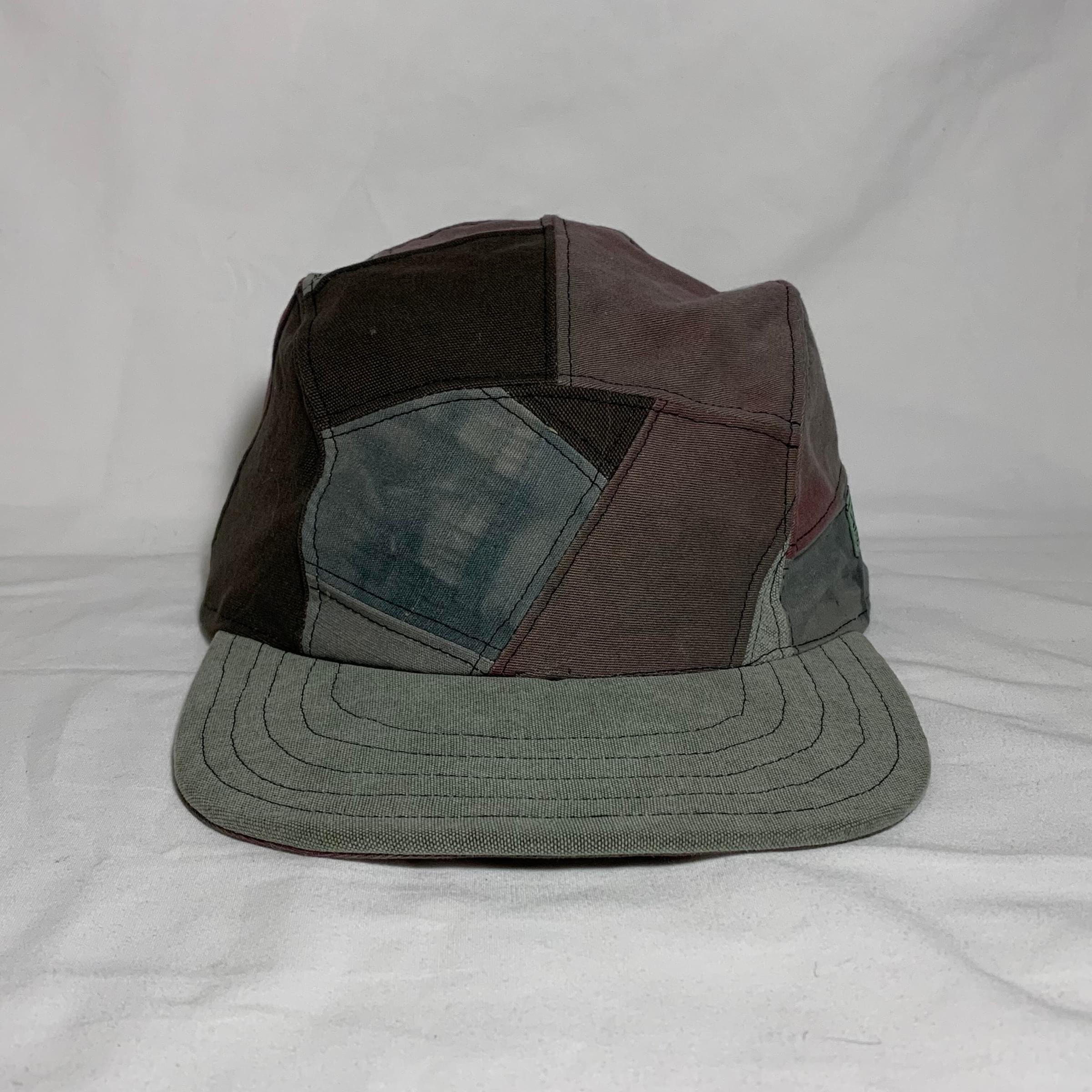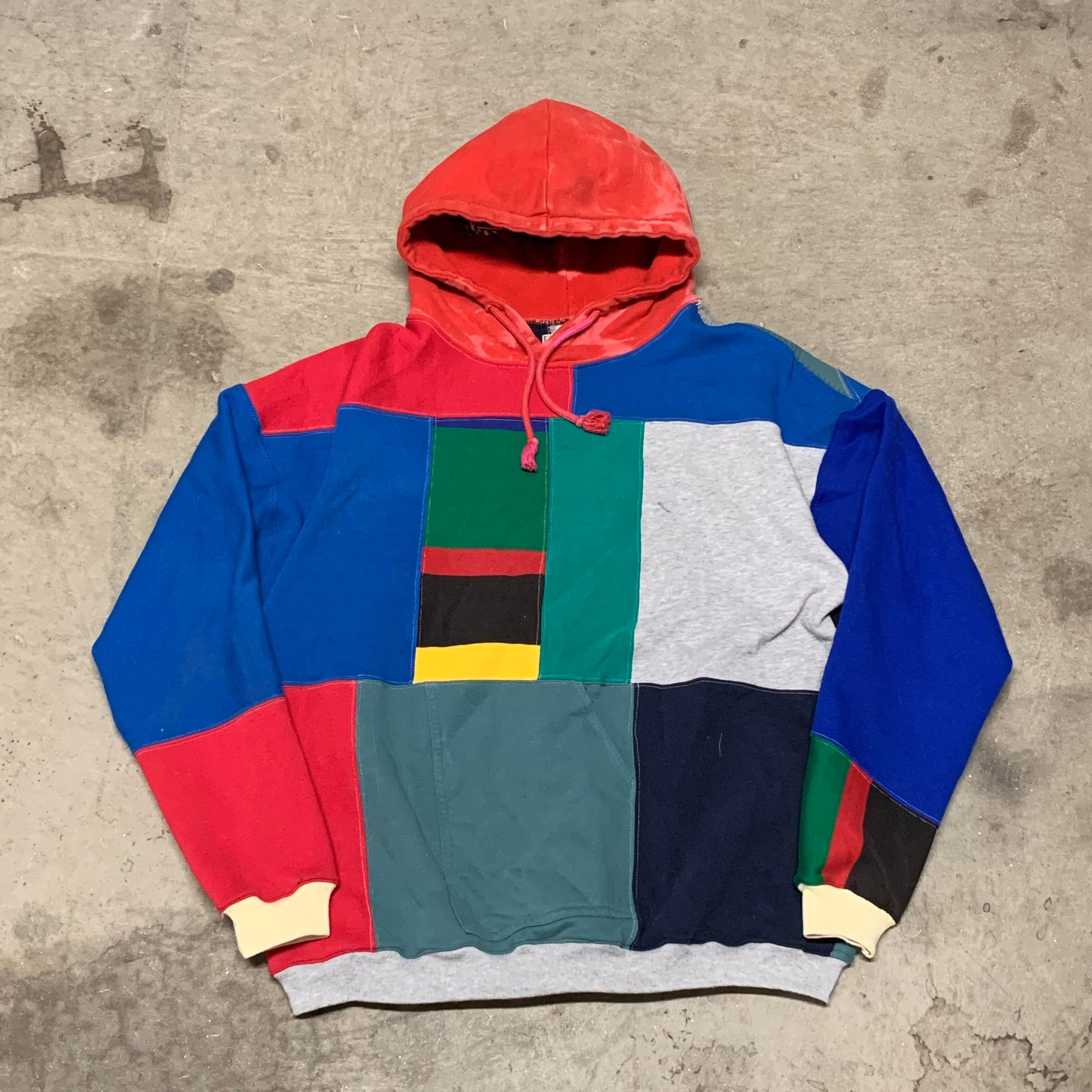 You make other things too! What's your ethos and inspiration behind all you create?
Yes, I definitely make other stuff. I have been experimenting a lot with garment design/construction over the last year. I have released a handful of patchwork baseball hats, pants, and cotton hoodies. All of these patchwork products are 90-100% recycled material and are one of a kind. As a one-man production team, it is a juggling act to be creating all these things simultaneously, but diversifying products keeps it fresh and enjoyable for me. I am inspired by skateboarding, exploring places natural and urban, snowboarding and my friends/family.
You call your brand, Gone Limited, a creative endeavor. Explain to me the meaning behind the name, where it came from and what it means for this endeavor moving forward.
Gone is acronym, Growing Off Negative Energy. The idea of taking what life gives you, good or bad, and making the best of what you have. Although the names origin is not directly related to up-cycled apparel, as the brand has evolved it coincidentally grew a deeper meaning. I call it a creative endeavor because it is constantly evolving and there is not an overly structured business plan. I do not have a product catalogue but as the endeavor moves forward, my vision gets clearer and the plan for the business gets more structure.
The outdoor industry — and for me, this feels even truer in the ski and snowboard communities — has an emphasis on looking good while getting outside. And that's probably growing as a priority due to social media. As someone who clearly enjoys clothes, how do you walk the line between your environmental values and thoughtful consumption?
Style is timeless, fashion changes on an annual basis. Everybody wants to look good and feel good, but there is definitely a balance between having good style and being environmentally conscious of what you are consuming. A lot of skiers and snowboarders view their outfit as their sense of individuality, but insist on buying from giant outerwear companies. I've been wearing the same snow pants for four years, they have evolved into a way cooler pair of pants because of repairs and modifications I've made to them. Cherish the gear you have, buy secondhand gear when possible, and don't feel like you need a new fit every season.
Tips for anyone else who's trying to move away from mindless consumption, specifically related to outdoor pursuits and outdoor gear?
Question your consumption, whether you actually need it. Buy used gear, thrift stores are full of clothes that have lots of use left in them. You can find unique and rare gems you never knew you would love — not to mention higher quality than the fast fashion companies that consume the internet these days. In terms of technical outdoor gear, do your research and buy high quality gear and take care of it. Repair the clothes you have, find a friend who can mend your goods and bribe them with a six-pack. Challenge yourself to buy less!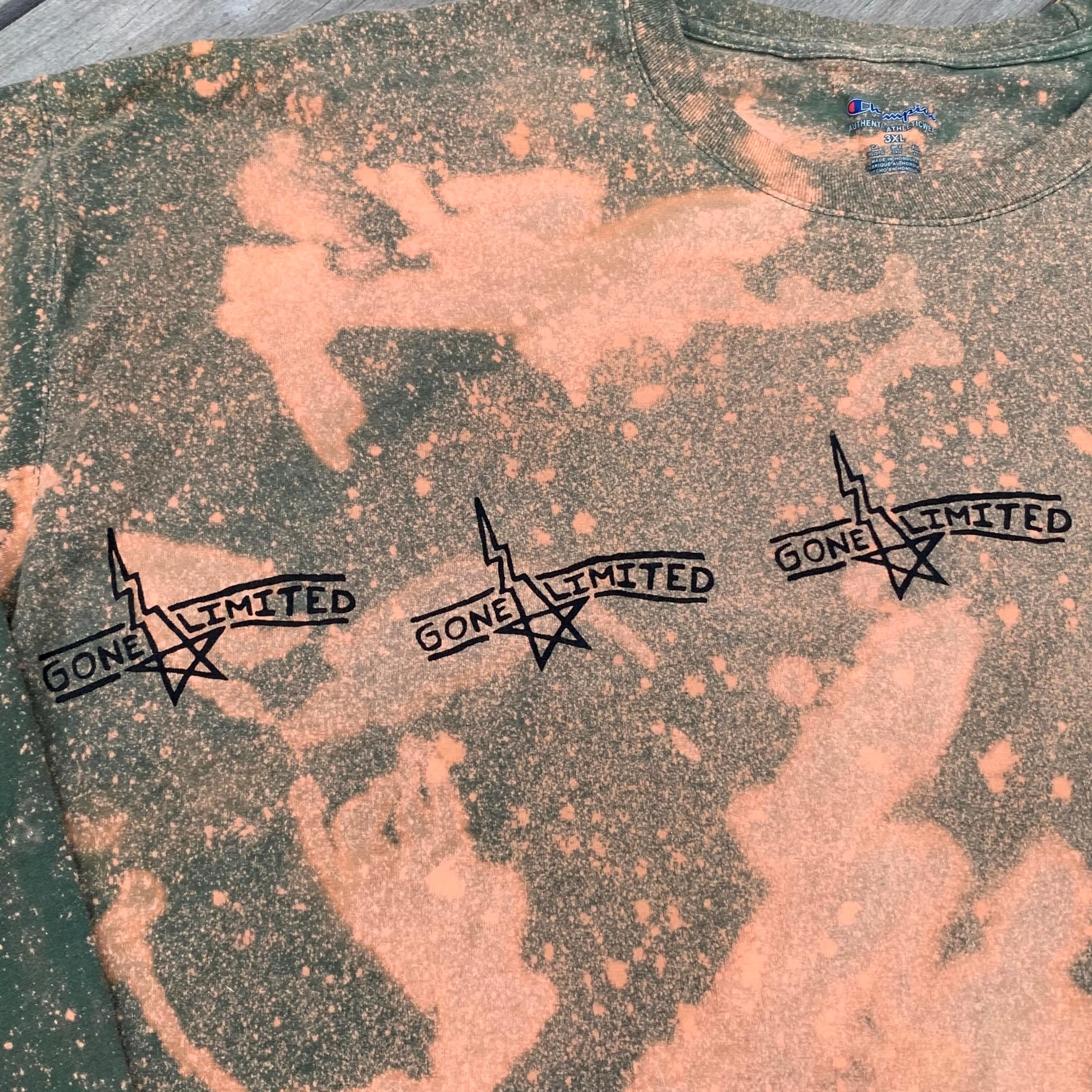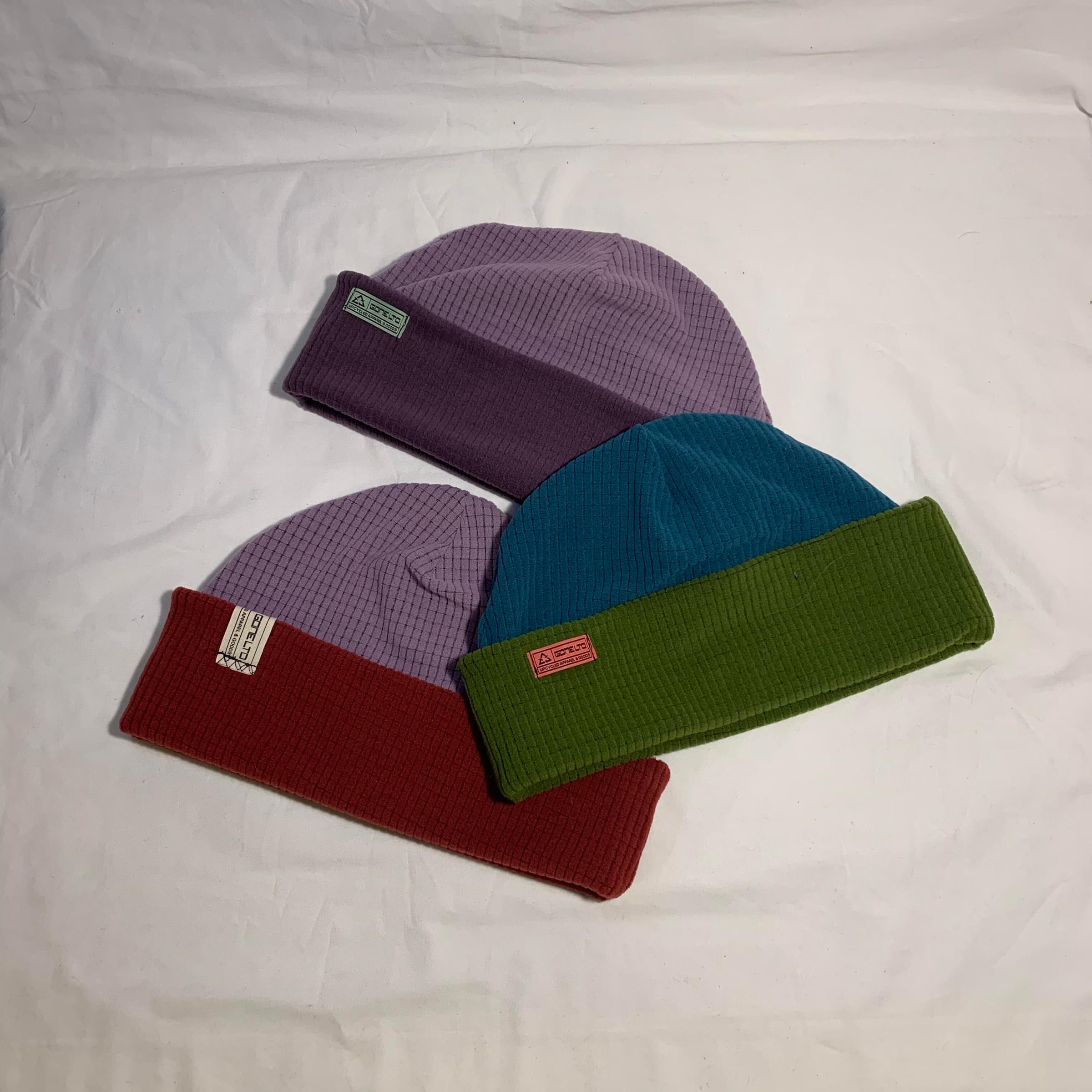 Do you have any longstanding pieces of clothing in your life that mean a lot to you?
I have a pair of Dickies work pants that have been with me for a long time. I got them second hand from my friend Kyle (who got them from a thrift store). I screen printed some mushrooms on them, and overtime the material began to disintegrate from skateboarding. They have probably been repaired 15+ times over the last five years. I always loved the fit of this particular pair of pants, and the endeavor of keeping them alive has been a fun process.
What companies, brands or people are you paying attention to today in the outdoor and fashion worlds?