Want to win one of Valencia's Watermelon Bikini's!? Sign up for our newsletter and check out THIS Instagram post for your chance to enter!
---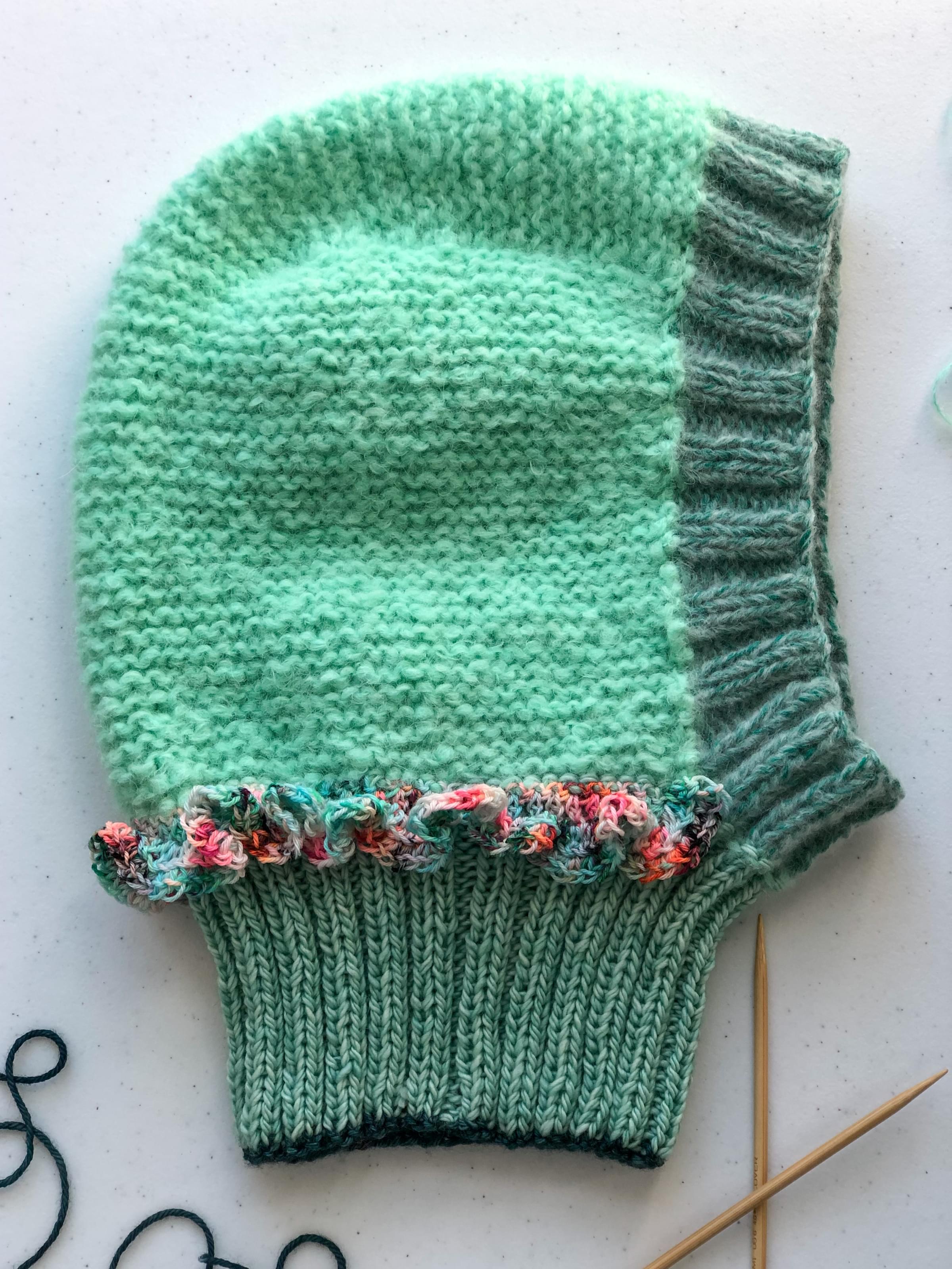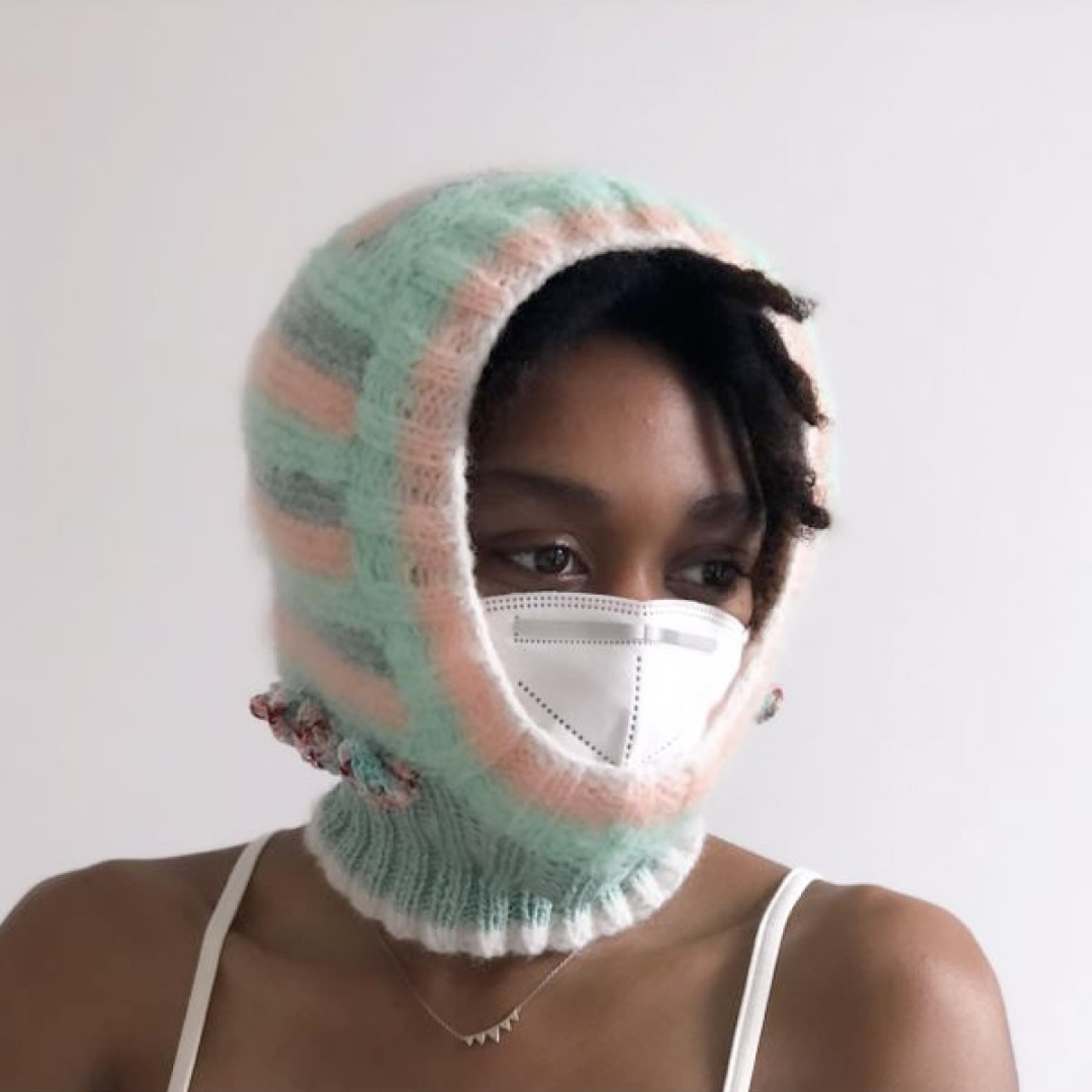 Like most people, knitwear designer, Valencia Shanelle, used this past year to cultivate her craft. What do you do when the world is burning and you are stuck inside your house? Pick up a pair of knitting needles. However, knitting was not a newfound quarantine hobby for Valencia. She began knitting in college out of necessity. She was unable to find interesting knitwear that was inspiring and affordable so she took matters into her own hands, literally. In the beginning knitting was a trial and error effort, but thanks to the infinite YouTube knitting community, she was able to catch on quickly. By 2015 she had created her own brand and was selling custom crochet pieces. Her business ebbed and flowed over the years, but in 2020 when the world was put on pause she had finally had the time to make custom knitwear her full time gig.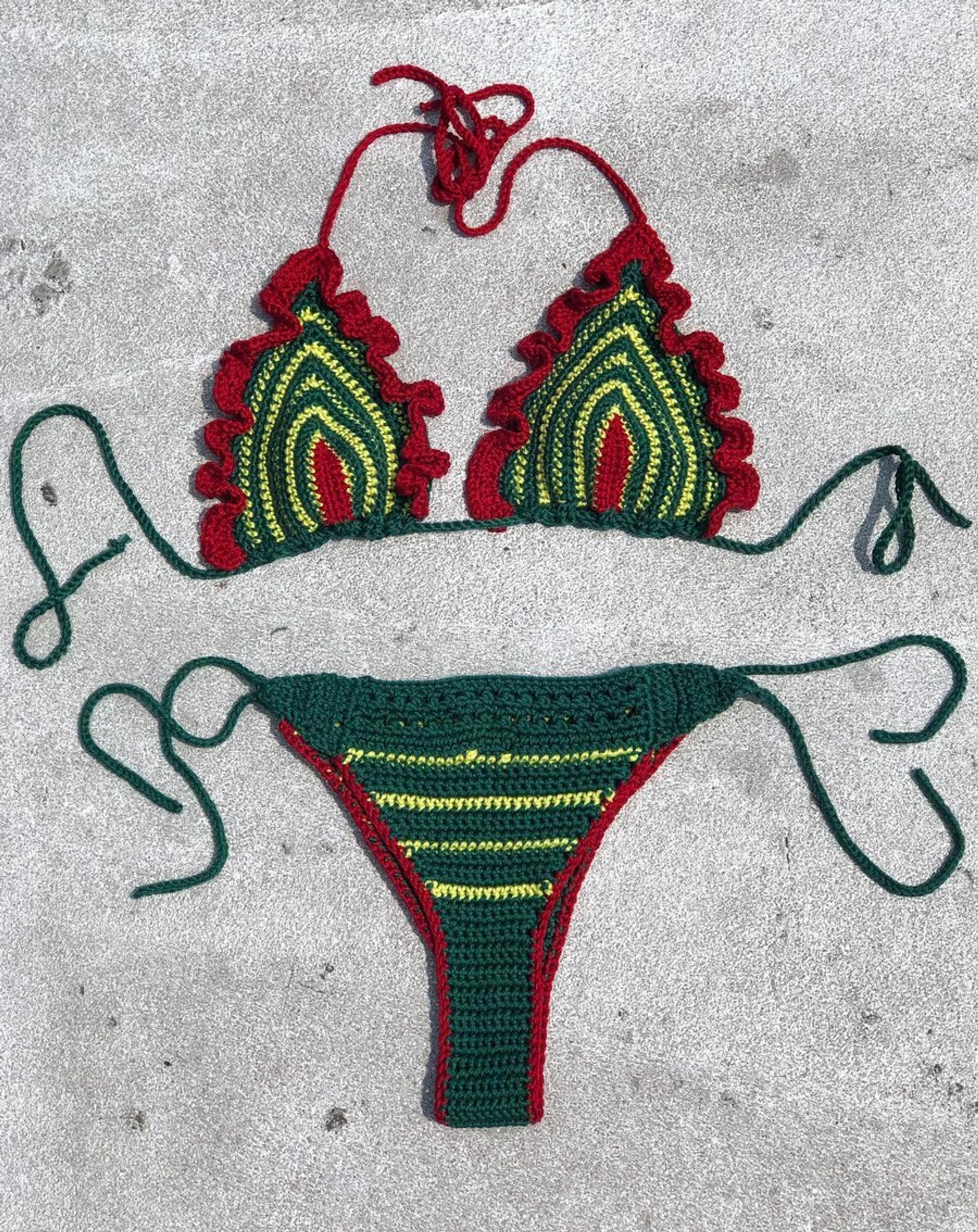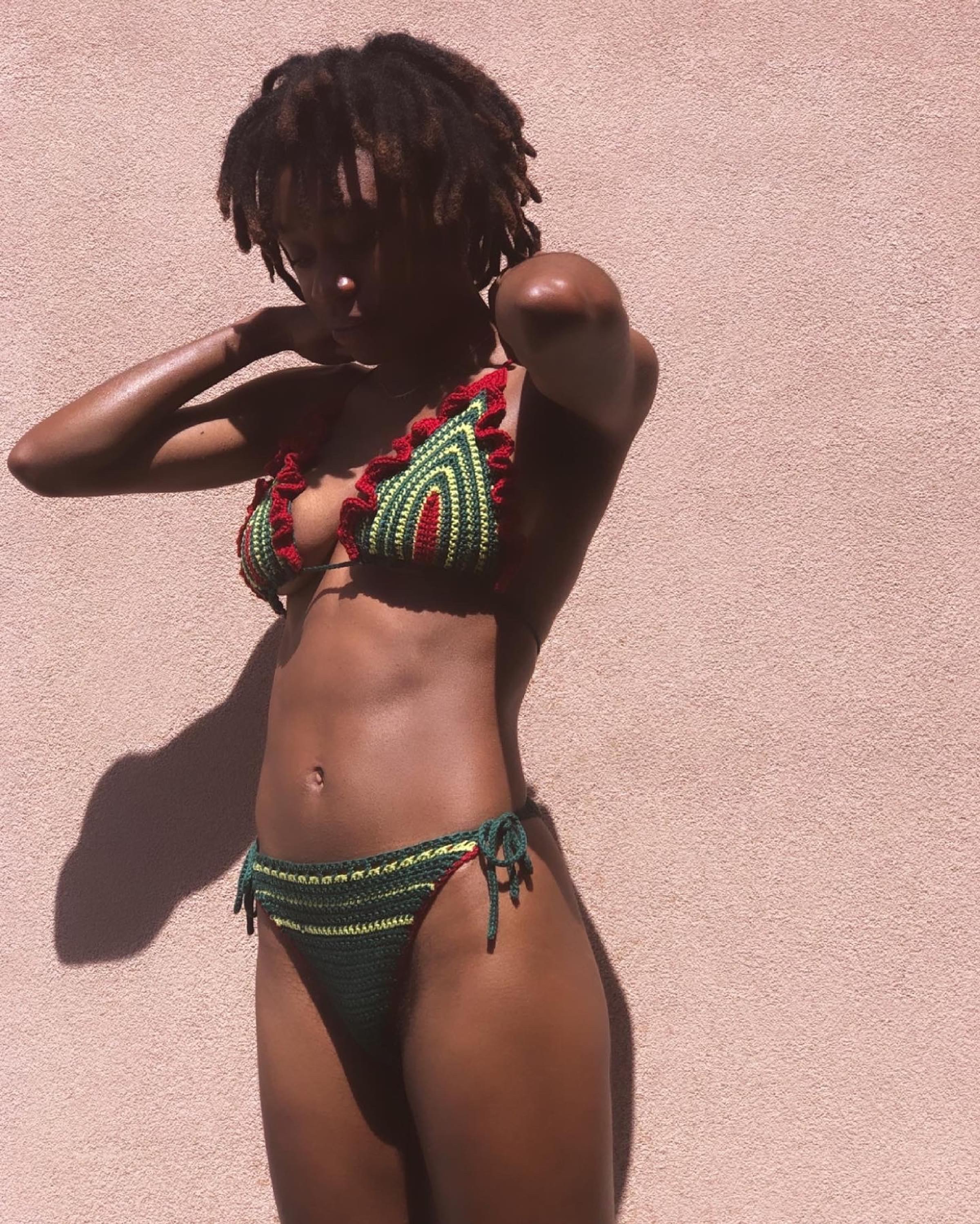 We were lucky enough to have Valencia's vibrant balaclavas show up on our explore feed. While her knitting expertise ranges from crocheted totes to two piece sets, the multi-colored balaclavas are what Valencia is currently known for. She first discovered the 1940's balaclava pattern at her job at Downtown Yarns in New York City. Leti Ruiz, owner of Downtown Yarns, had the balaclava on display in the shop. Valencia had been learning different hat patterns at the time and was ready to try something different. We are lucky that she did because these beautiful creations have been inspiring us ever since. Valencia values collaboration and works with her customers throughout the knitting process. She asks for colors, styles, and places that inspire them to get the conversation going. For Valencia, New York City and the vast personalities that surround her are a great inspiration. You can see this in her designs and attention to color theory. Valencia has an incredible eye for pairing seemingly opposing colors together and making something beautiful.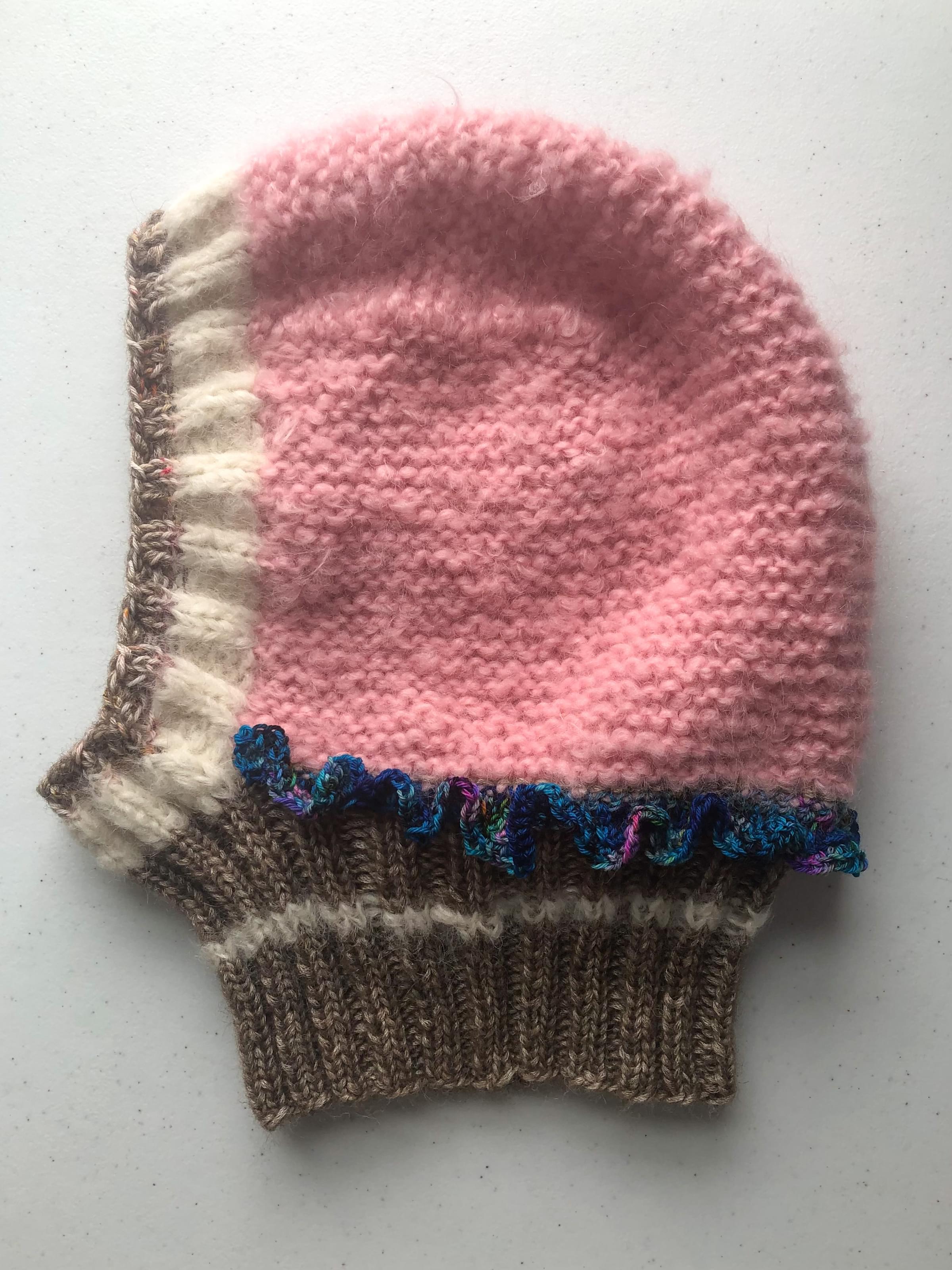 Like most small businesses, she uses Instagram and online shop to sell her pieces and patterns. Both sites encourage community and collaboration. These are key aspects to knitting culture. Valencia stated that "knitting culture is life" and we can see that through her actions as well. Valencia collaborates and educates through her knitwear brand and her work at Downtown Yarns. Something that I really appreciate in Valencia's work is her transparency. She is constantly showing the process of making, remaking and learning through her Instagram. Oftentimes knitting and knitwear is viewed outside the realm of fashion. Many are quick to call it craft and therefore little its importance. By showing the process of knitting, she shows the value of the craft. Valencia believes that knitwear is haute couture. The reality is that many of the hand dyed fibers she uses are specially made by farms around the world. Each piece she creates holds their own unique value. As we enter into Spring and Summer, Valencia's balaclavas are still going strong. She is currently working with more 1940's military patterns to knit the next "it" fashion accessory. We can't wait to see what she knits up next!

Find Valencia Shanelle on Instagram: @valenciashanellenewyork and on www.valenciaashanelle.com

Meredith MacNicholas is a writer, stylist, and fashion student in New York City.