Hi Alyson! Thank you for taking the time to chat with us today. How are you?

Hi to you! Thank you for the opportunity to put some thoughts down on paper! I'm good. A new moon is tomorrow, which makes me feel…I don't know…energetic? Confused? Sad? Yes, all of those at once. I have been eating a ton of peaches and nectarines! They are in season right now for a hot minute and are insanely delicious. We live pretty close to a beach that is beautiful and sunny in the summer (and beautiful and rainy in the winter), so we've been doing that often. I'm also organizing hard drives, procrastinating, and second guessing/picking materials for the house addition we're working on.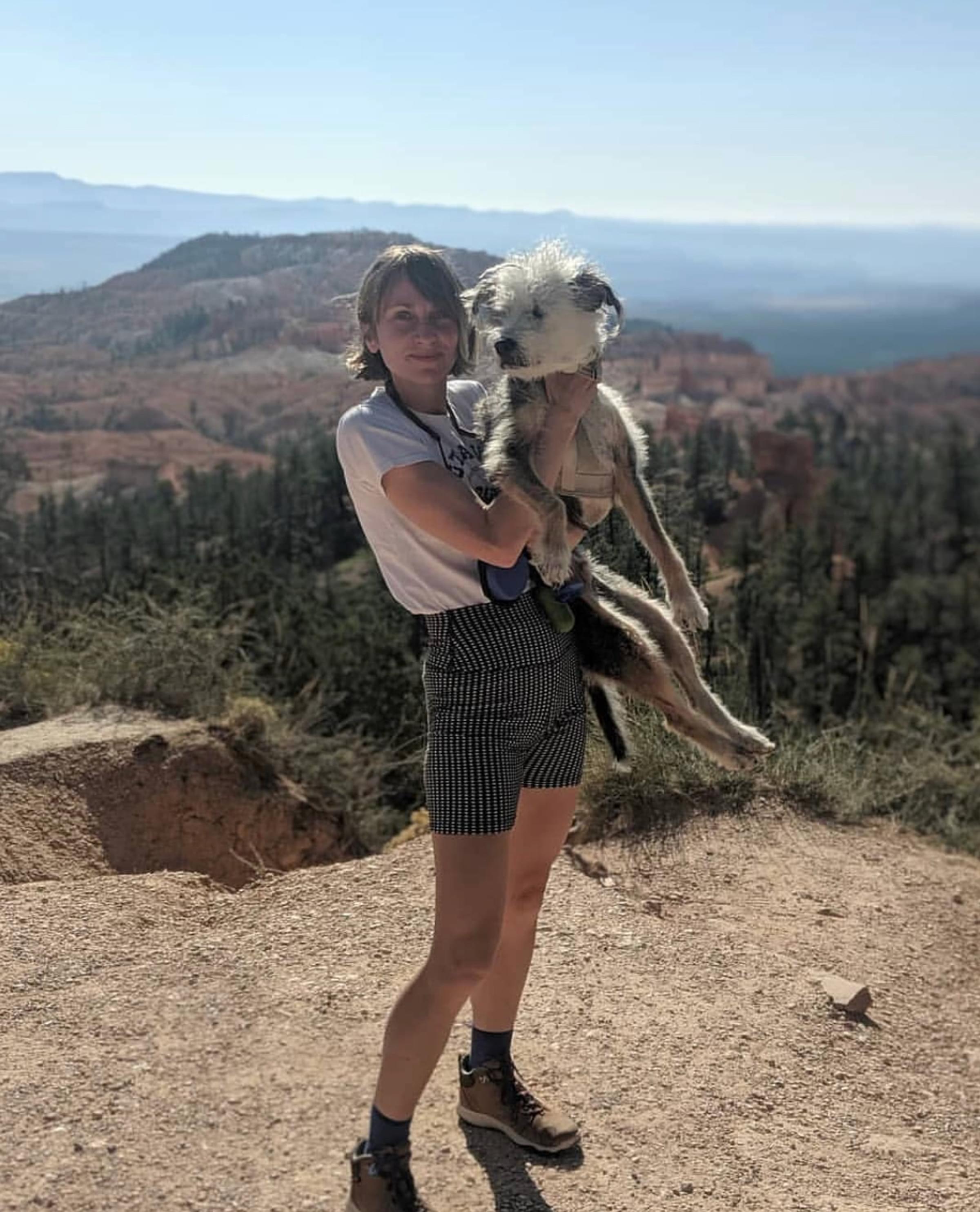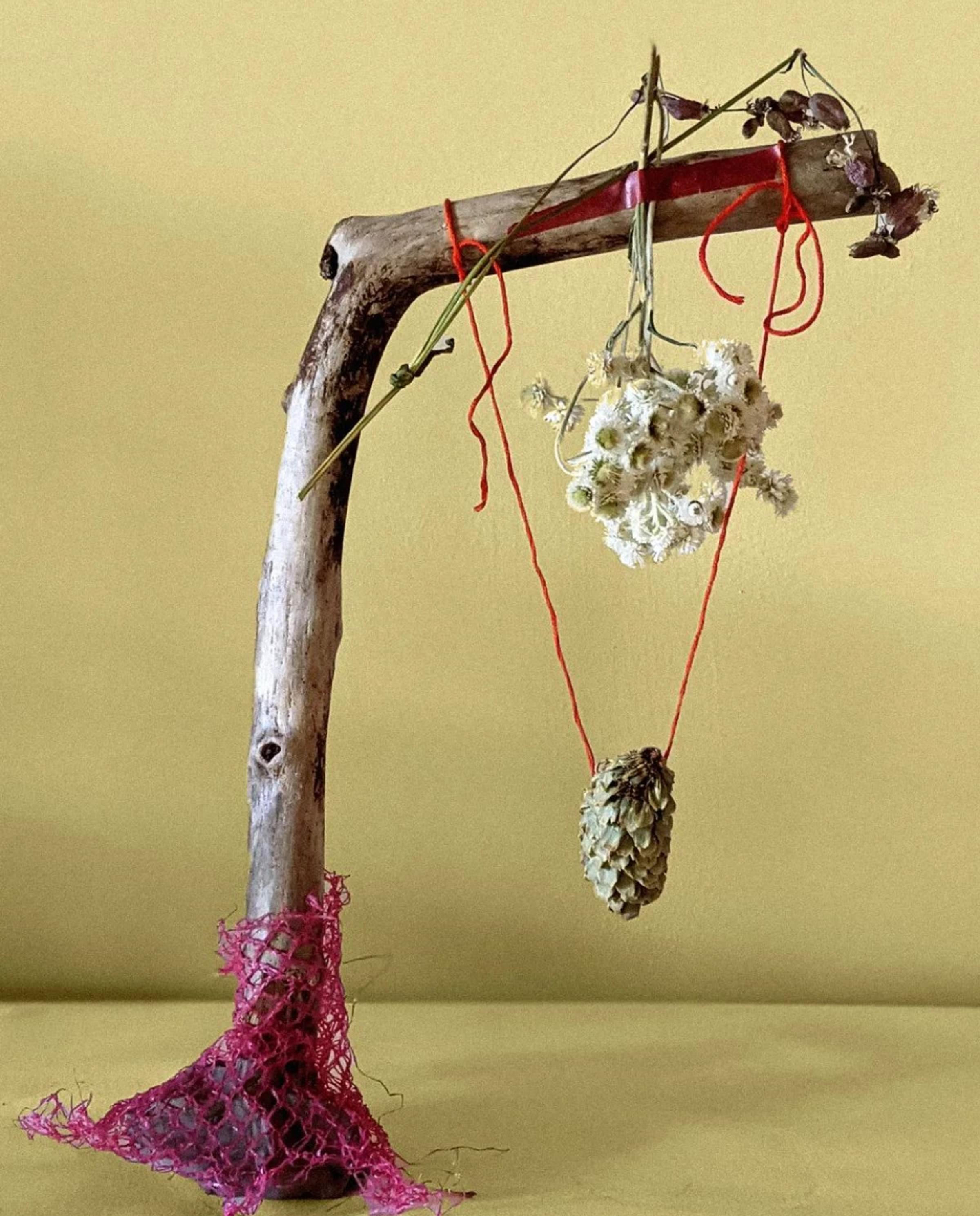 Your work spans across a variety of mediums. Clay, textile design, and (newly!!) hand knit sweaters. Where did you find your footing in the creative world, and how would you describe the trajectory of your work?
I think I am still finding my footing. I never feel truly comfortable about any of it. Or certain of anything. My work is playful and exploratory and I try to be honest with myself. I feel lucky and sometimes guilty to be able to devote time to it and sort it all out. I work hard, but I have a partner that has my back and encourages me.
In terms of trajectory, it's much easier to connect dots when you're looking back, but I didn't have much of a plan at the beginning. I got lucky when some lovely people posted my work years ago on some wonderful blogs which lead to collaborations designing dishware and rugs and jewelry and clothes – just a weird assortment of opportunities that I'm very grateful for. I've worked with other designers and artisans and craftspeople and learned a great deal. While designing things, I have also always made things I would put more in the art category…photographs, drawings, kind of performative collaborations. Often the things I'm doing are somewhere within that spectrum between design and art.
You recently sold your home in Texas and are remodeling a house on the Oregon coast. Was it hard to leave your place in Texas, especially since you and your partner built it together?
It was hard to leave family and friends, but we were emotionally ready to leave the house. We had 10 great years there. I loved the process of working on a space with my husband and it was something we wanted to do again. The impetus though really began when we found out our dog, Stache, had lymphoma, and then, shortly after, I found out I had thyroid cancer. And, of course, the pandemic had just started. It was a lot! After our dog passed and I got my thyroid removed, we just felt like a major change was needed.
We found a place on the Oregon coast that had big mossy trees and felt diametrically opposed to the central Texas landscape. It has been a great place to catch our breath and it's looking like we may have a studio built soon. I know what a privilege it is to create a space just for making. For the last three years I have been working on top of a dishwasher box, in the corner of our bedroom where the carpet was pulled up, next to some tools I had to hurdle. While it's all been lovely and freeing in some ways, I feel lucky to be getting a spot where things stay put and maybe a tad nervous that some pressure will come along with it. My husband gets a huge shout out here because he is taking on all the contracting and finishing work so we could afford to do the studio sooner than later. I think he can tell my OCD brain is at its maximum capacity of functioning.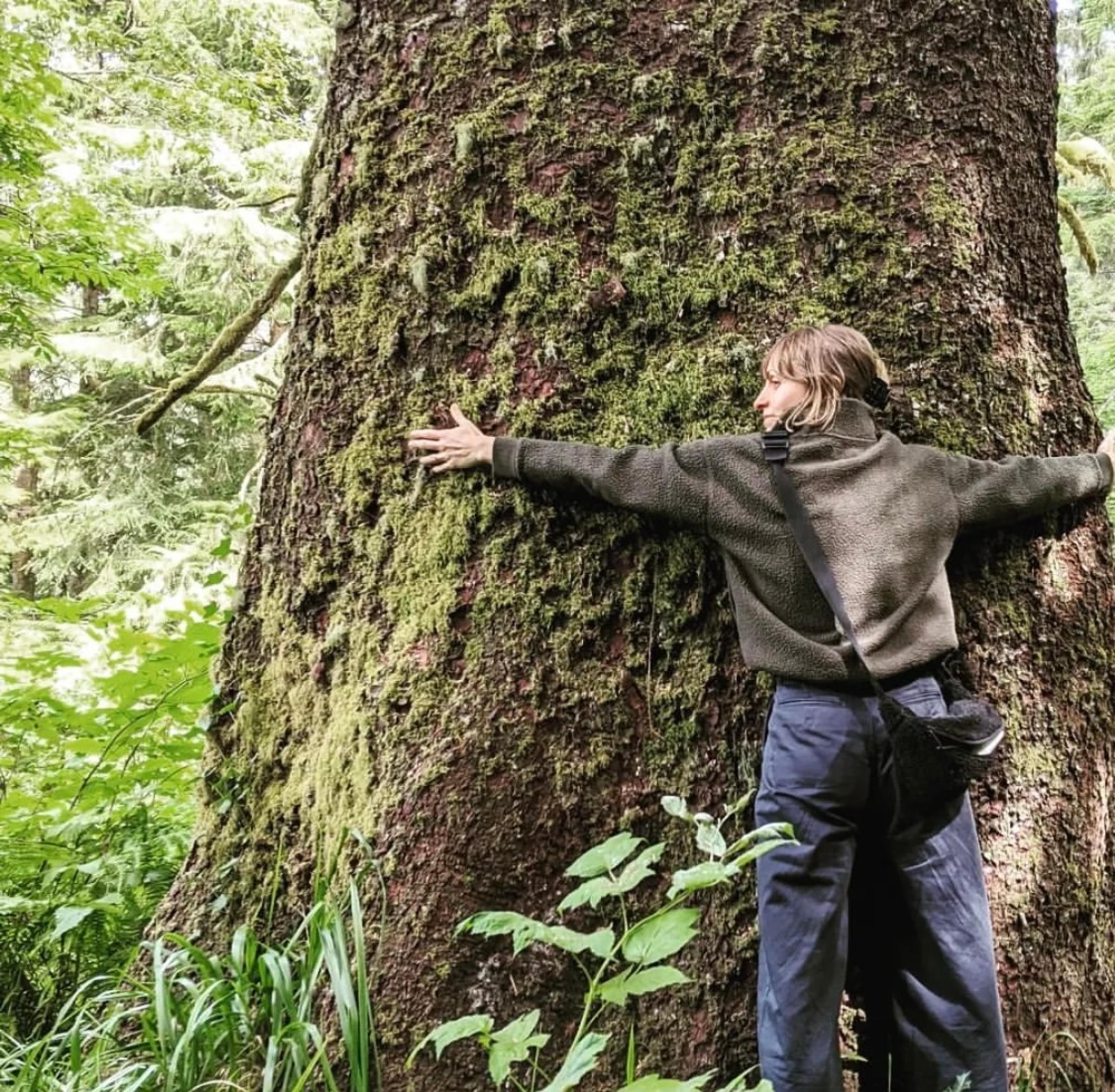 That's a huge transition to move from Texas to Oregon. Motion stirs sediment. What things have been coming up in this move for you?

Yes! You have to stir up the sediment to see if there are any little flakes that might be valuable down there! I think you always leave something behind when you leave a space. It's never the problems that you've left, but something in how you see them…so they're the same problems but they look different, like I've at least learned something new about them. So, I always find moving toward unfamiliar things rewarding. Or, maybe I just need to move a lot because I grew up an Army brat.
I would say it has been both refreshing and scary. The forests and capes of the Oregon coast are pretty majestic and serene. Then again, I've done a ton of research on tsunamis and bears (a big brown bear periodically gets into our trash if we've left it out).
I feel like I'm moving a little slower, taking things in. The adjustment to thyroid medication has been a little topsy-turvy – I have a new body in many ways which has been both refreshing and scary. It has not been an easy transition, but it has forced me to really let go and accept the unknown and learn how to trust my body again- all big lessons. The house project has also forced us to really measure progress in baby steps. There isn't much building happening in the wet winters, and it took us a while to find good electricians and plumbers, so we've been designing and changing the house and the studio in our heads…I think we're on version 2,367.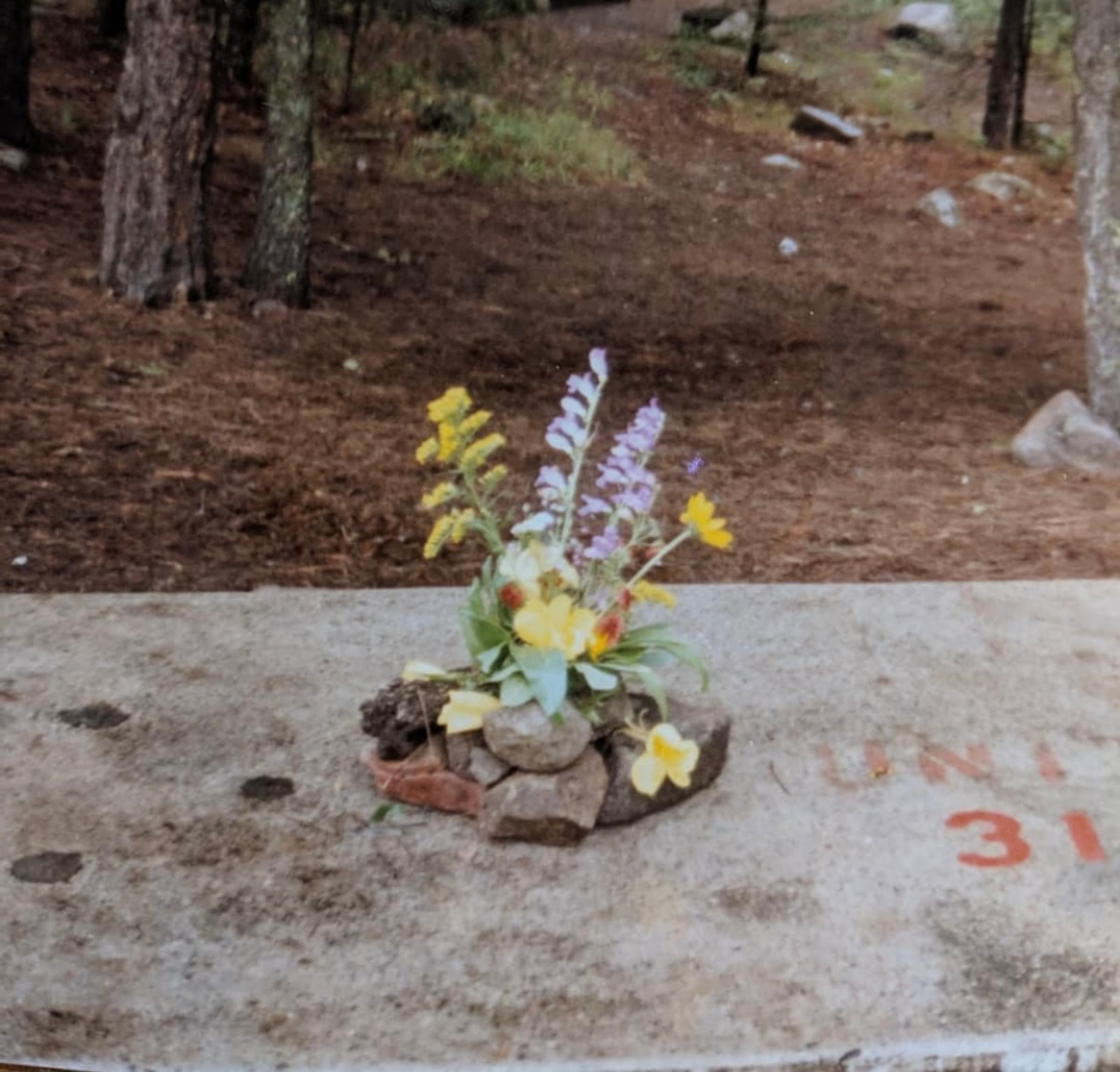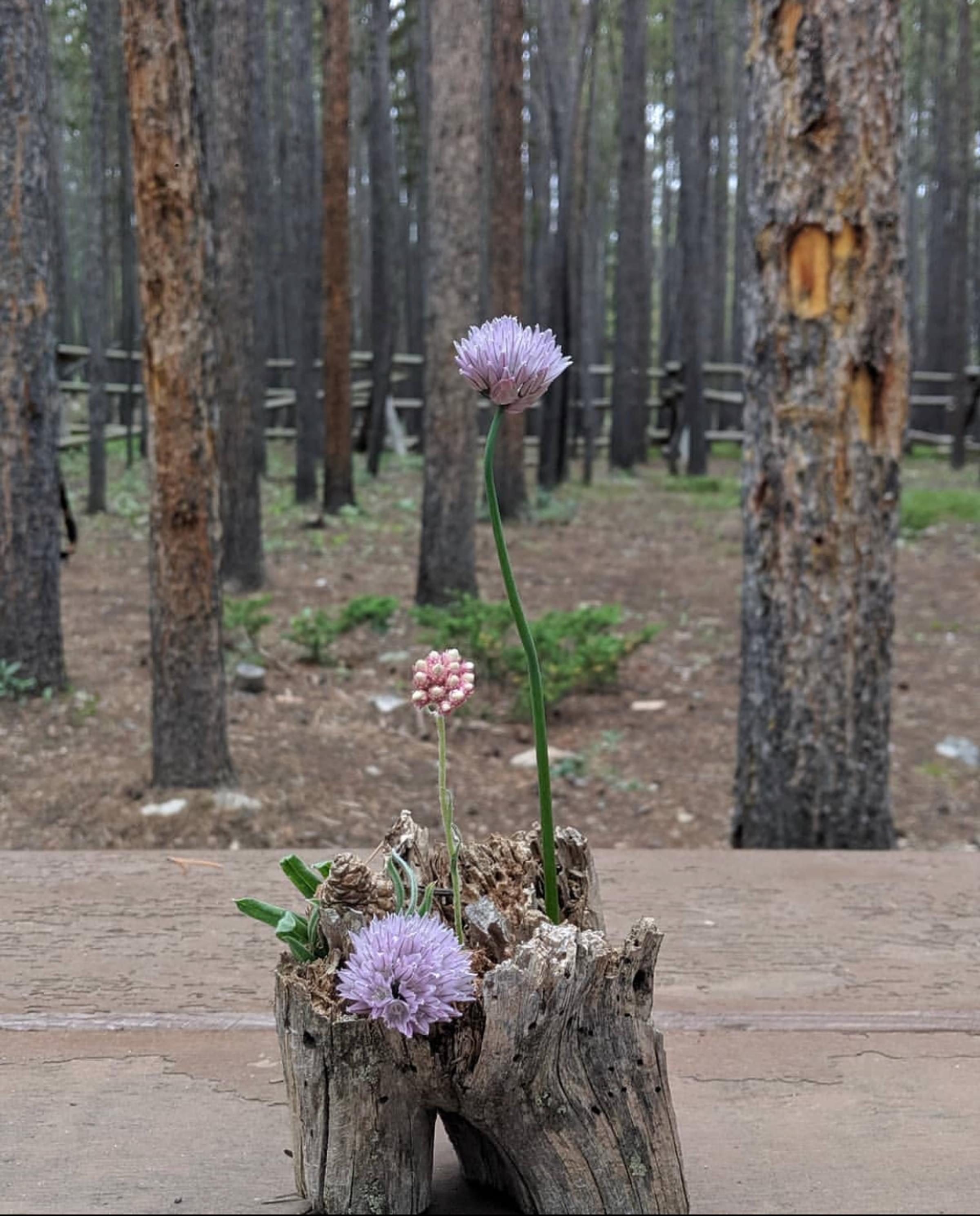 Who is someone that has been shaping you lately?
We rescued a pup 6 months after moving here and while he is super fun and cute, he is quite salty. His name is Soot. We think he might have been abused because he has some strict boundaries, which has taught me a lot about love, trust, respect and patience. I could never just pick him up and squeeze him like I wanted for the first year, but now, if I let him come to me, he'll nuzzle up and lick my hand. He hasn't exactly been the carefree, cuddly fluffpuff I was hoping for, but Lil Soot has been a good teacher. I think he is exactly what I needed.
I found a series you shared recently; images of drawings and small altars erected on the beach. "Recent conversations about grief with the ocean." I was so moved by these shots. Can you share with me some lessons you have learned about grief?
Oh, thank you. I'm so glad that they resonated with you. I love getting lost in thought playing in the sand...it is a very childlike feeling. They are constant conversations and meditations that I have been having and that I document sometimes with my camera. I'm not sure I can put anything into words yet, which is why I guess I'm making them. Grief is, strangely, both so personal and universal at the same time. We don't move on from it, we just move forward.
I am currently working on a series titled "tools for grief" – objects in clay and glass meant to inspire a kind of playful interaction with nature. I don't know why, but they have helped me come to terms with grief a little. I think the act of nurturing grief and being gentle and attentive to it is important. It's also important to just sit with someone who is grieving and not try and fix them or look on the bright side of things with them. Just be there and listen and help where you can. We all grieve, but we all grieve differently.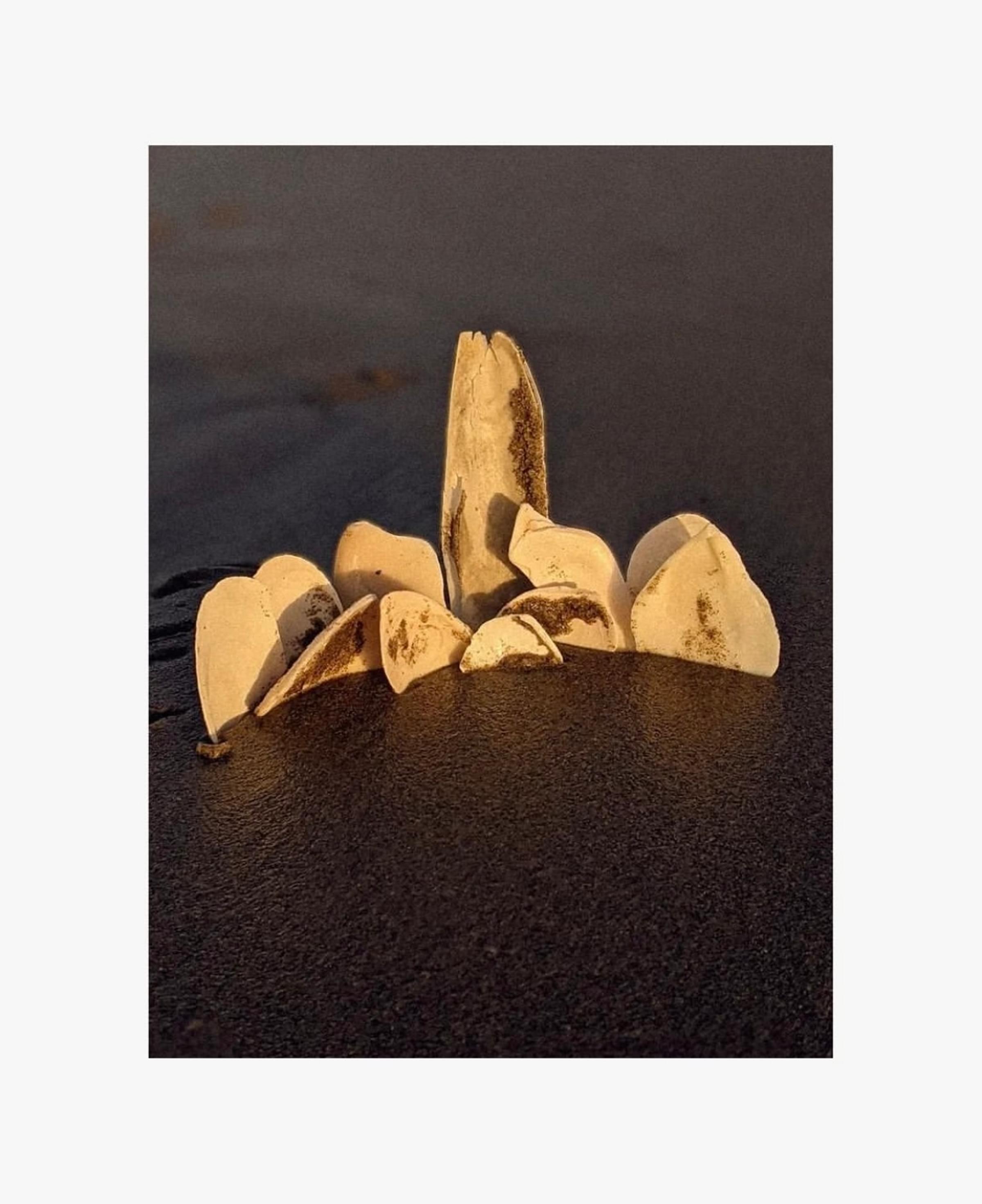 If you could only see one color for the rest of your life, but in many shades, which color would you pick?
Goodness….hard question. The first thing that popped into my head, so I am going with it, is a glowing peach to barely nude color. That color you see a strip of in a sunset. I am always trying to match that color in work but it's impossible!
You work often with your partner (as you have said, your better half). What is one of the nearest and dearest things you've created together?
Our marriage. Not to sound too sappy, but it's the thing I am proudest of. Going on 23 years together. Crazy sauce! I think about how young we were and all the life we've experienced together. Relationships are artistic endeavors I think…you have to really pay attention and keep changing together and maintain a huge amount of curiosity, it is such a worthwhile process for me.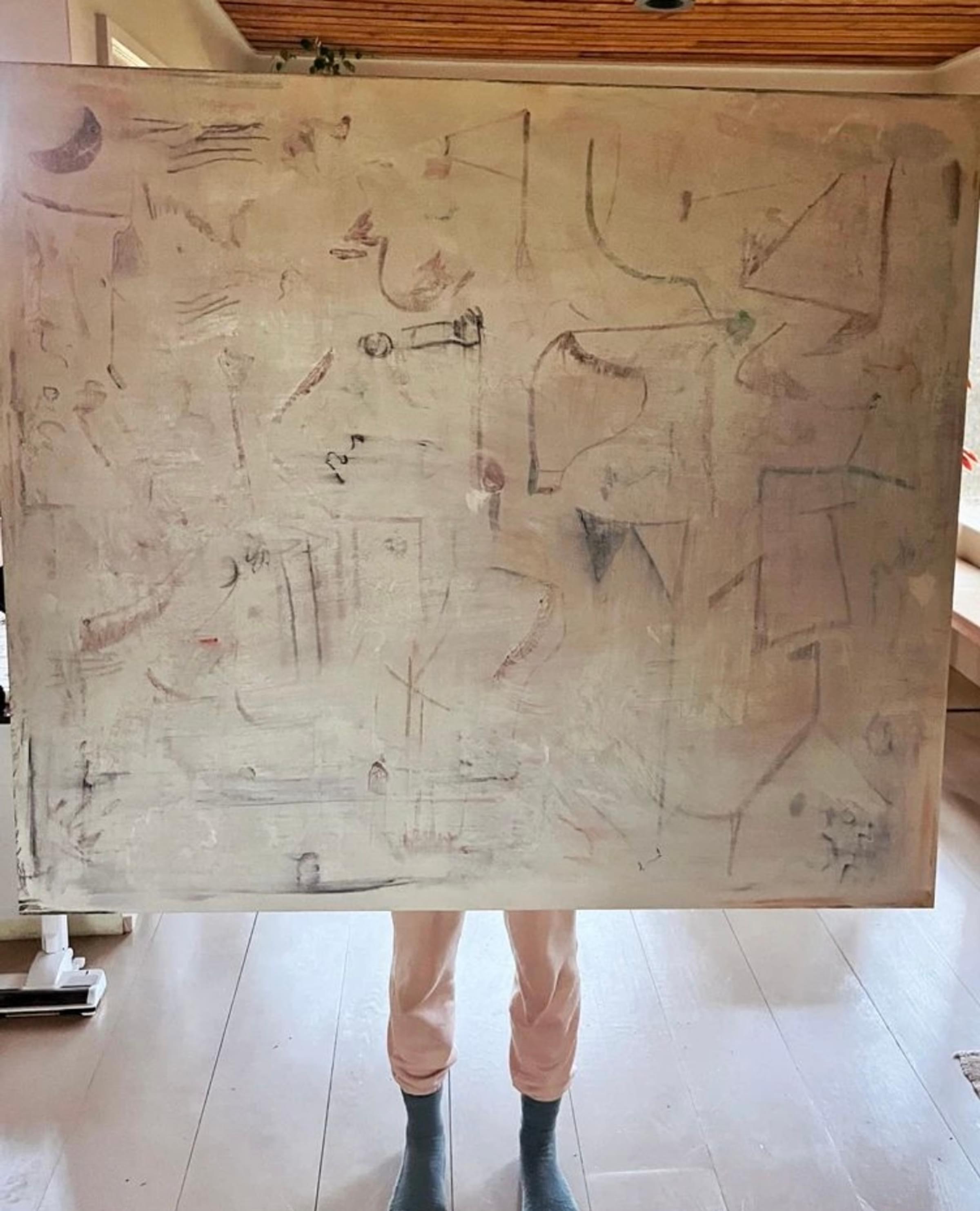 I am struck by how honest curiosity and the desire to learn seems to shape your work regardless of the medium. Are you gentle with yourself when you learn new things?
Sweet question. For the most part I'm pretty gentle with myself. I am very comfortable being bad at something and admitting that I don't know, which I think is one of my best traits. I do lose patience when I am on the computer sometimes.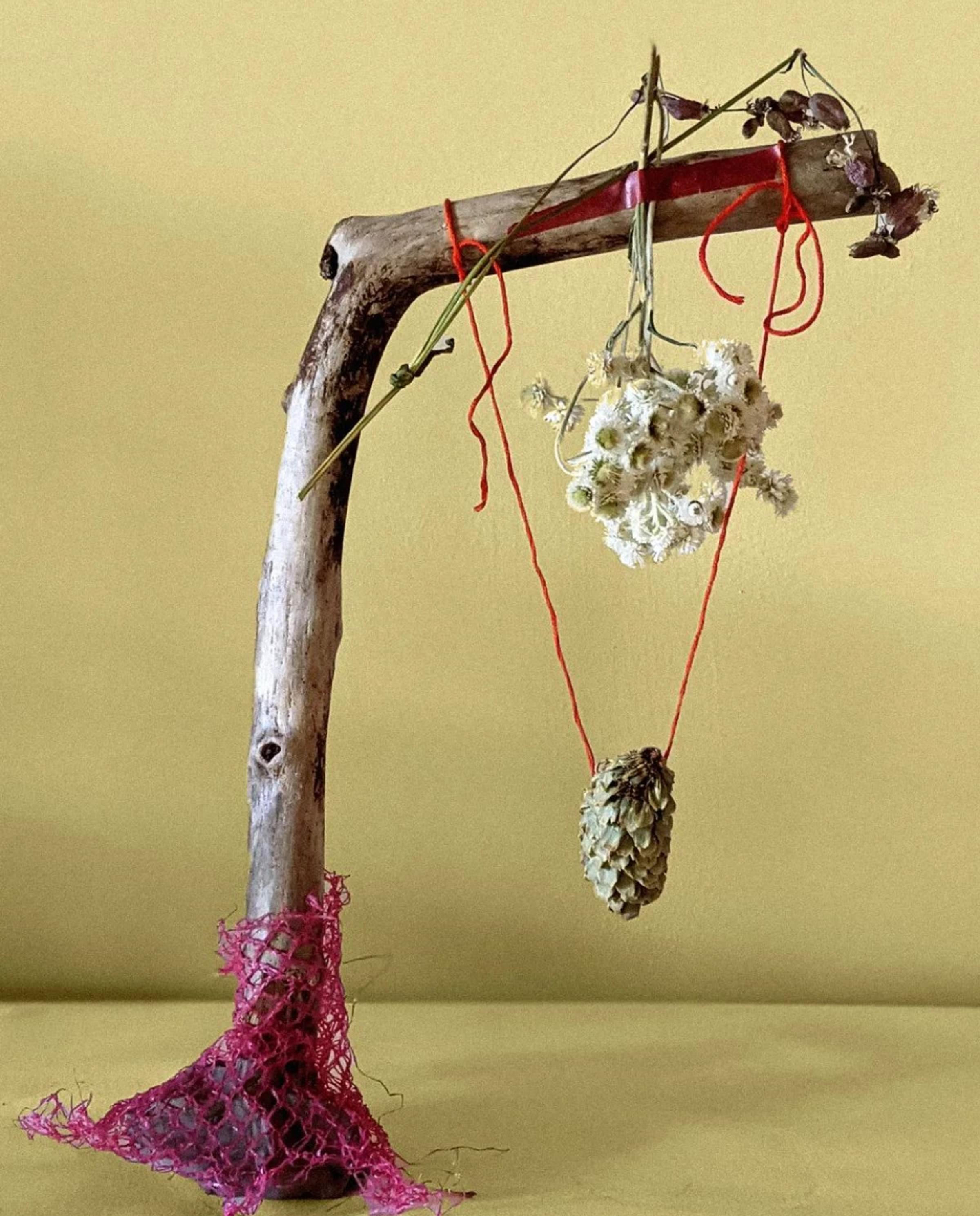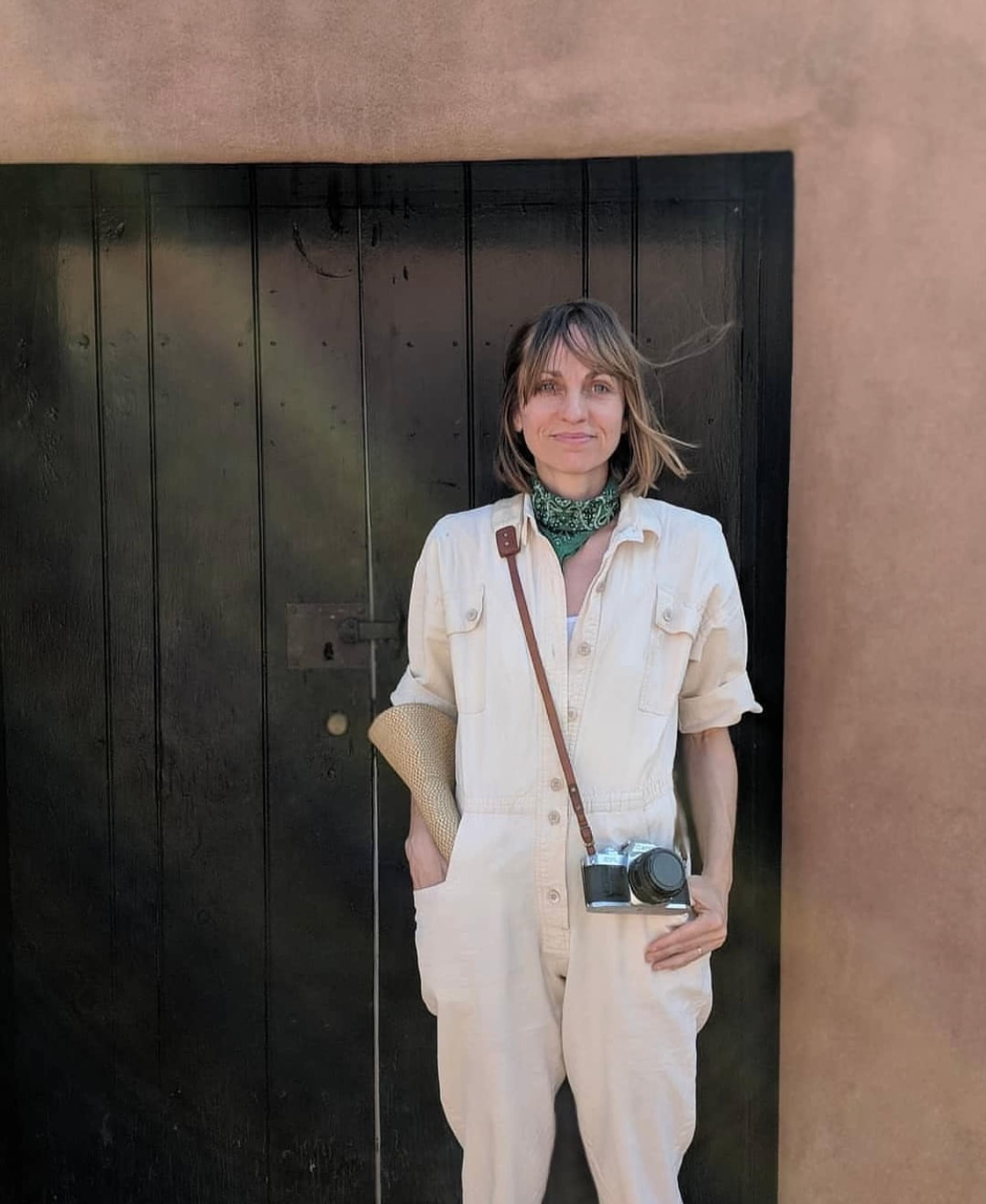 I see where you recently were distilling pine cones for a small batch of perfume–did you find it to be a success? If you could bottle up any scent perfectly, what would it be?
I did find it to be a success! It was such a fun process- collecting nature and making scents with it. We didn't sell a million of them…unfortunately once the making part is over, my enthusiasm for the selling part dwindles. They do smell amazing! One of my favorite smells is the top of my first dog, Stache's, head. I would nuzzle up in him, give him loads of kisses and just inhale. He always smelled like a good memory. Even now, it is such a calming thought. I have a lock of his hair in a small box by our bed. It's faded but I can still put it to my nose and smell him, but would love to have a little vial of his scent.
What is the most treasured item in your closet, accessory or clothing?
Gosh, this is turning into being a love letter to Stache- it's a necklace with his baby teeth. We found two of his baby teeth in our sheets when he was a puppy and I held on to them with the intention to make a necklace. They were not going to be mourning jewelry, but he died before I got to make them. One tooth is cast in gold and the other is the actual tooth- little love charms. They are such lovely shapes, and they hang right over the faint scar on my neck, so I feel really close to him.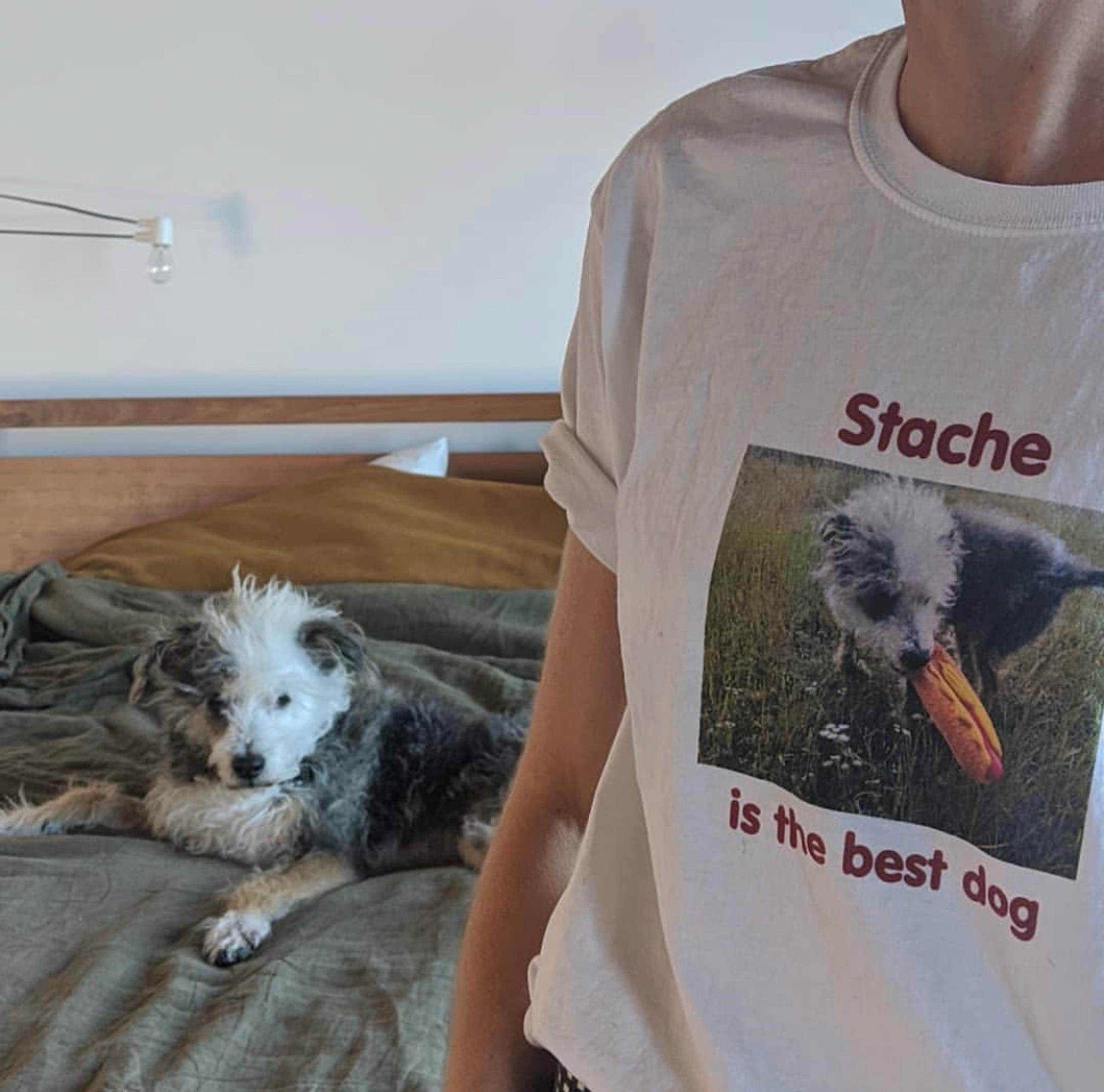 Tell us more about Brrr!, your new knitwear line! Why were you drawn to doing something like this, and how has the process been of building it out?
Ten years ago, I designed a few sweaters but couldn't find the right production. I've always loved sweaters and had over a dozen vintage ones in my closet… in Texas… which means I wore them for about 3 weeks. I love how cozy and comforted they make you feel, and I always love combining textiles with drawing techniques. Now that I live in a place where I wear a sweater year-round (which is amazing), I started to pick up the idea again.
About a year ago, my friend Jyl, who lives in Peru and owns the beautiful Greenhouse Peru, sent me a text that said, "I found you knit production." – a little loving nudge that threw it into motion. Then my husband got excited which always gives me good momentum. Subsequently, my friend Blair and I were talking names and she came up with Brrr in like 5 seconds. So, the stars have been aligned.
I am starting out with three sweaters and some leg warmers. They are very textured and meant to be worn forwards, backwards and inside out. My friend Ann, who gives me the best advice, told me that I will probably be the only one who will wear them inside out, but that she was glad I was happy about it. I think showing the process is so interesting…making the innerworkings, the seams, the frays all beautiful. I hope others join me in wearing them inside out.
They are being knitted by hand and will be made in small batches in Peru. I have two more collections designed along with accessories and things, so I'm starting small but have a lot of ideas I hope to get out. So I need to embrace the selling part : )
What is one of the best pieces of advice that you have carried with you?
"Don't give so many fucks." Imagine this coming from a Jewish grandma from the Bronx (my amazing Tanny). So, with much love.
This one is more for me, as I am genuinely interested…What did you think of the Barbie movie?
I'll start by professing, I have a huge girl crush on Gretta Gerwig – so excited for her success as well as Margot Robbie and all involved.
To be honest, I am still processing it I think, which isn't a normal thing I do, process movies…so, that is interesting. I didn't love it when I walked out, but it's growing on me more and more each day which has been a nice surprise. It was a lot of fun, and artistically great and I've had so many interesting conversations with my friends about it, so that's quite an accomplishment! It covers a lot of ground and says all the right things- I guess I just wanted to be more surprised by something.
Thinking about her choosing to come to a place where she would not always be happy or equal and she signed up for it anyway made me think even more about how strong and empathetic and curious and complex women are. My friend Amanda said something along the lines that after Barbie's experience in the real world, a deeply uncomfortable place, it makes returning to Barbie Land impossible. She can't unsee the beauty of a wrinkled face, tears or cellulite. We like to think of her protesting and maybe working at Planned Parenthood in the sequel.
I loved the ending. I imagine I will have a new answer for you in a few weeks- so let's check back. I am enjoying the conversations.