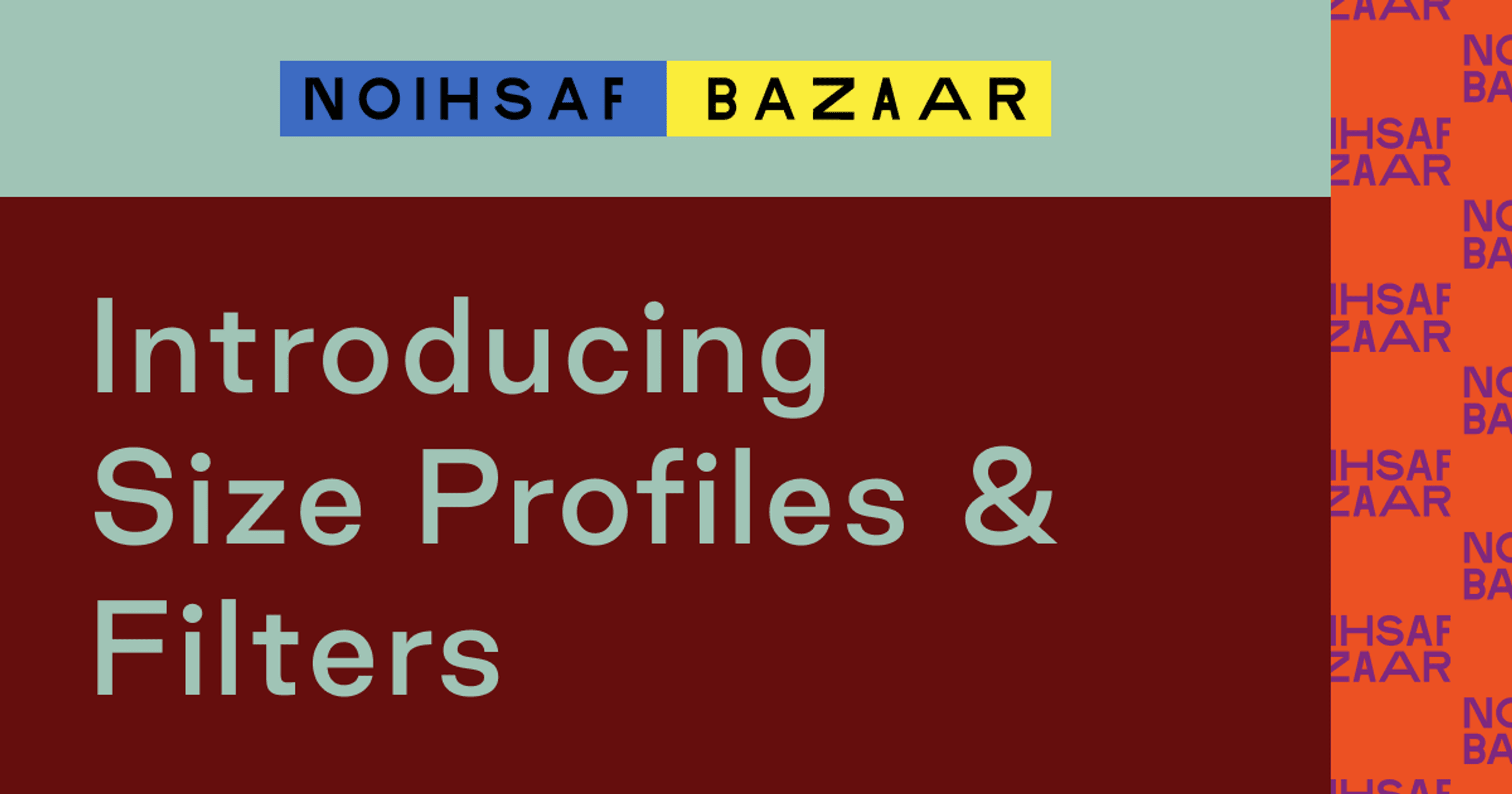 It's Here: Size Profiles & Filters
One of the most complex and overwhelming things in fashion is how sizing works across brands, genders, and throughout time. Ask anyone who has perused vintage clothing; sizing is much different now, compared to the 60s or 70s. Even between present-day brands; jeans labeled as a size 26 don't always fit like a size 26. That 26 might be more of a 28. An XL dress might fit more like a medium. The world of sizing is always shifting, open to interpretation, and takes care to navigate.
Because sizing is so complex, we have allowed sellers to type in their own description into the size field. This resulted in a vast abyss of sizes input by our community; nearly 5,000 unique size values in our database (whew!).
As we began developing our size filters, it became clear that building a system with these 5,000 size values was difficult, even impossible. So, we've reworked our system to include pre-defined options for some of the most common sizes (while still allowing an option to type in a size for those outliers). With this new set-up, almost 95% of items can be filtered.
So, that's what we're launching today. Size filters. You can now filter most sections by size, hopefully making it easier to find items that fit.
Oh, and we also took it a bit further. Here are some other things you can do with it:
Multiple Filters, Same Time
You aren't limited to filtering by one size at a time. You can filter by different size systems and sizes simultaneously – so you can filter for multiple pant sizes, shoe sizes, general sizes, and ballpark sizes (more on those soon) at the same time.
For example, you can filter for things that are US Womens 12 and things that are EU Womens 42 at the same time. You can cast a wide net, or a narrow net.
Size Profiles
Not only can you filter by all of those things at once, you can save multiple "Size Profiles" to your account and keep an eye on things with various criteria. This allows you to quickly toggle between these profiles while browsing items. It's super handy and we hope you'll love it.
Think of it like different profiles under your Netflix account; a profile set up to find something to wear to your friend's wedding, a profile for finding gear for your partner's upcoming camping trip, or a profile to land the perfect pair of patchwork jeans in your size. Custom and specific. Possibilities are endless.
You could have a size profile that is the aforementioned narrow net – the exact sizes you typically buy, but also one for the wider net – which could include a size up or down from your usual.

You could have a size profile for your kid, partner, or the friend you love to shop for.

You could have a size profile for upcoming changes to your body (maternity, transitioning, etc.).
Ballpark Sizes
Even though we narrowed it down from 5,000 sizes we still have almost 600 size options. That's a lot to go through if you are just wanting to quickly find things that may fit you. So, for each size we also assign an automated "ballpark" size. These aren't going to be super accurate (hence in the ballpark), and they aren't going to work for everyone, but hopefully they save folks some time when browsing.
For example, you can pick Women's L and XL as your Ballpark Size to filter by and the system will find things we think are roughly in that size.
Misc. Sizes
There are still items that don't fall into the 600 or so options we landed on. Those items won't show up when you filter for sizes. So, we made a filter that just shows you these items. There will be gems in here that fit you perfectly. You'll want to keep one eye on this for sure. Think of it like going to The Bins. It's fun in its own way. Also, any item that was submitted before we launched the new size fields will show up here until they expire.

---
Okay, that's about it for now!
We're really proud of the work we've done here. It's definitely not perfect, but hopefully it's helps people find items that fit more quickly.
Oh, and remember – check the actual measurements on an item before you buy something. Sizing will always be inconsistent even before it hits someone's dryer. And yes, we'll be tackling Measurement Filters – likely sometime in 2023.
xoxo, The Noihsaf Team