Who are you? Tell us a bit about yourself!
Hi!! My full (legal) name is Kianosh Michelle Moezam (@michellemoezam), but I go by my middle name, Michelle. Growing up in Alabama as a first generation Persian immigrant, it was determined at a very young age that Michelle was all folks could pronounce easily, so I made the switch once I started going to school. My mom's childhood best friend was named Michelle, and they promised to name their children after each other in honor of their friendship. I feel that ultimately catapulted me into being such a nostalgic hopeless romantic. I live in Brooklyn now and work as a creative at an advertising agency in Manhattan. I studied photography in college, and growing up I always collected scraps to make collages or keep on inspiration boards (still do). Art school definitely helped shape me into the creative I am today and opened up this entire realm of possibilities I never knew were available to me. It completely reshaped the way I think.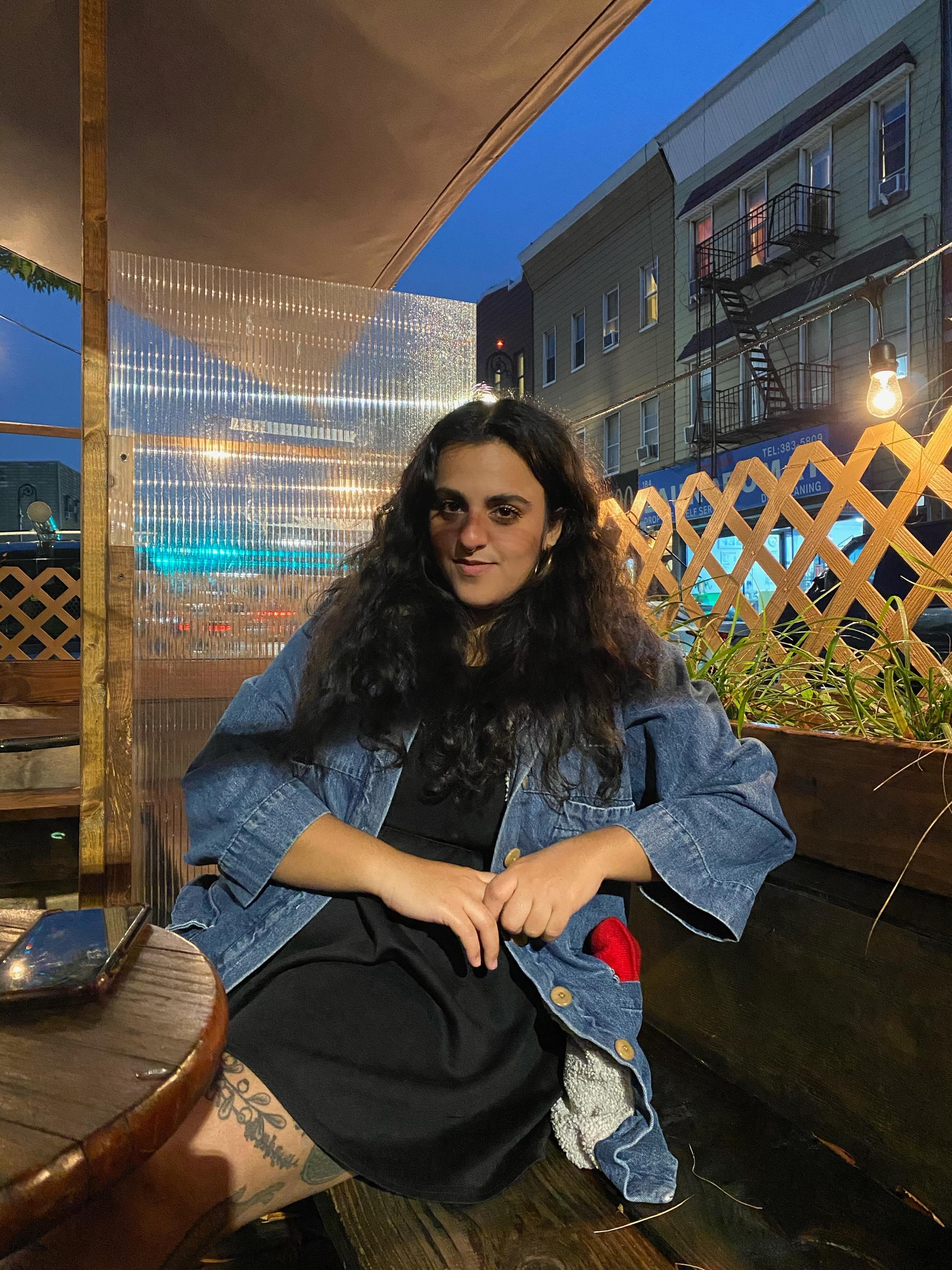 What determines your style? Where do you find inspiration?
My style is 10000% determined by comfort and fit. I get almost all of my clothing tailored to my height, arm length, etc., which makes me feel more presentable and, ultimately, more comfortable. I should also mention that almost all of my clothes are secondhand. This has always been important to me, and I have been thrifting since I could drive and make those choices for myself.
I was always told to dress how I'd like to be addressed, which led me to keep my closet full of staples that always, without a doubt, make me feel strong and extremely confident. Having those staples helped me be creative in other parts of my life without feeling overwhelmed by mixing and matching different textures or colors. I never felt confident in mixing colors growing up, but with the flexibility of a WFH lifestyle, I've been introducing more statement pieces into my uniform style. It helps me express myself (in a controlled way) by having a bold red or royal blue accessory to pop against my usual black, white, and denim looks. I hate wearing pants, so you will most likely see me in a dress layered up, instead of jeans. Also, growing up Persian meant all black, all the time, so accent pieces are an easy way for me to feel confident in my self expression.
I never felt like I understood how to match colors until I got my art degree. Go figure. I spent a lot of time working to understand how different colors can make your skin look flushed, warm, splotchy etc. Now, I also draw a lot of inspiration from colors that are naturally appearing, like sunsets, fauna, old oil paintings, seasons changing, etc. Seeing a lavender and orange sunset inspired me to wear a lavender hoodie with a bright almost neon orange beanie one day and I felt like It was the first time I showed off something that looked great with skin tone. I've been easing myself into more color play based on what these experiments have taught me.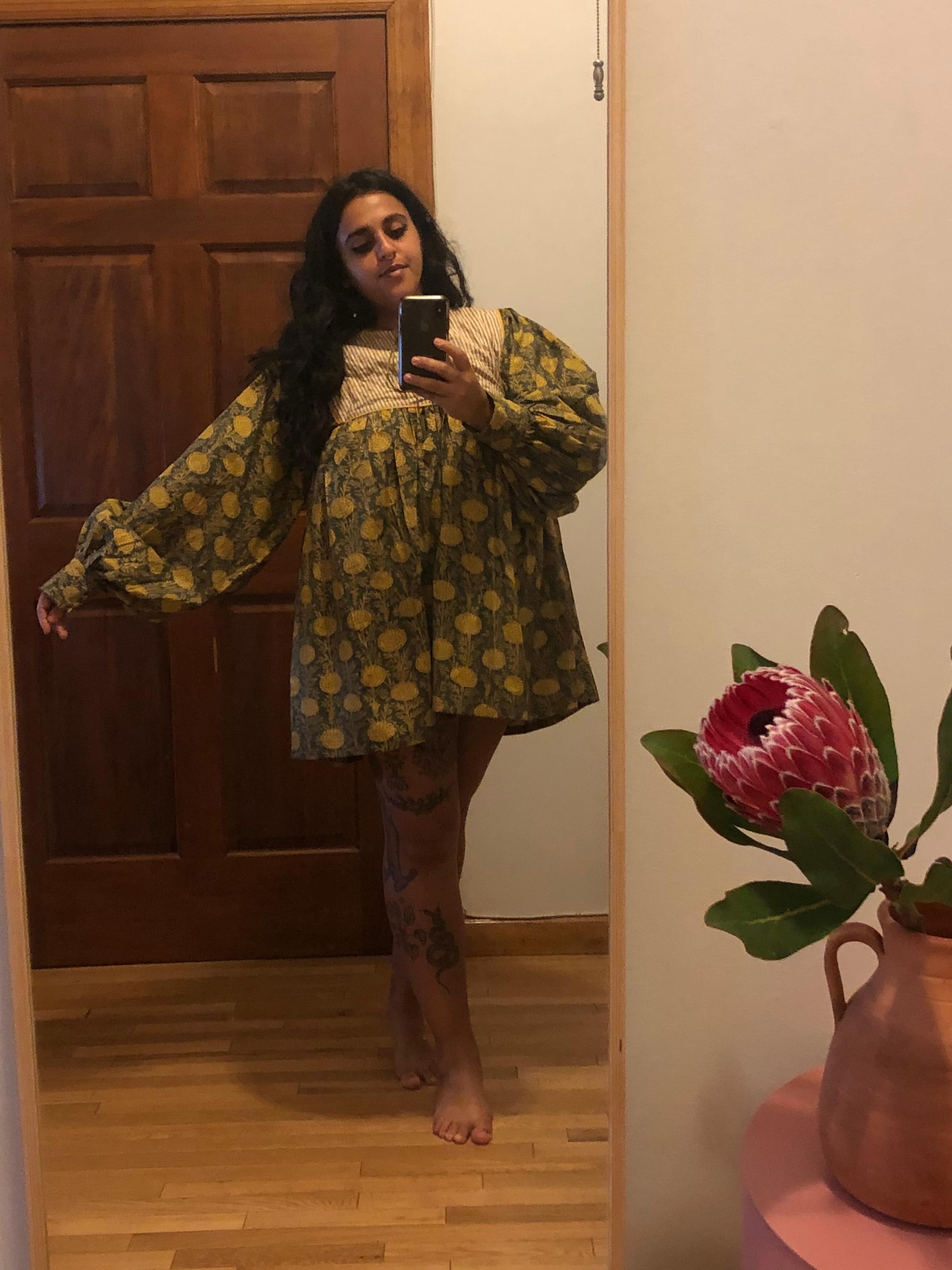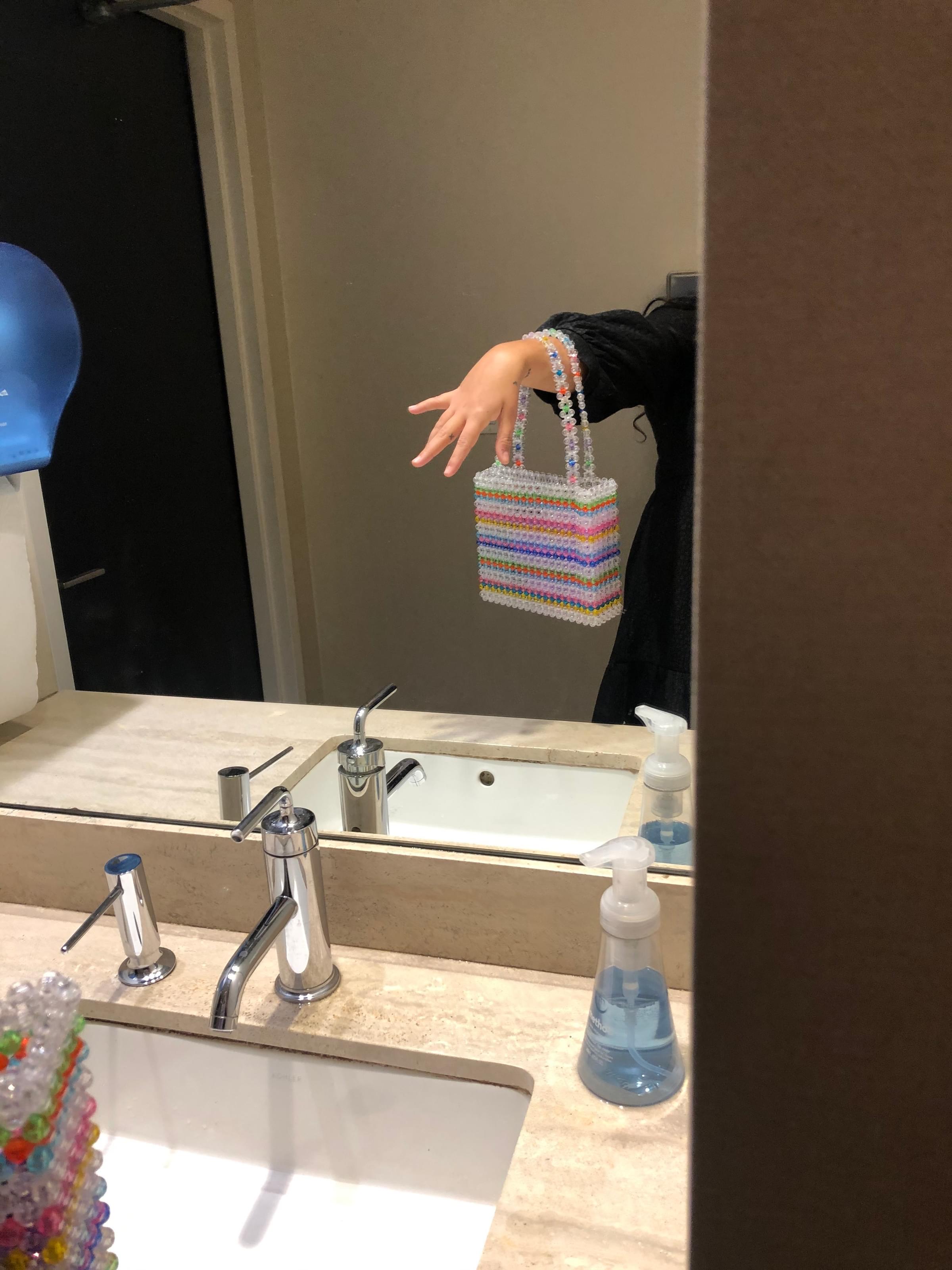 Who is someone's style you emulate?
I would love to be a mix between RudyJude and _Chicadeoro. I love seeing how they both utilize staples and introduce bright colors that suit their skin tones. I also love the way their styles extend to the way they decorate and adorn their homes. Fashion styling and interior design have always gone hand in hand for me when choosing what to own, and I've been inspired by the both of them for quite some time. I also gravitate towards these 2 folks because they ultimately are attainable — it's always been important to me to not idolize fashion trends that don't suit me for the long term. This helps create a smarter system for myself in terms of budgeting and making sure I don't create more waste.
There's also this other side of me that wants to embrace the all black platform boots, tight crop tops, messy hair, bold lip look that Nice.to.Mitra does SO well. I think that's the Brooklyn influence talking .
Ideally, I will be all of these and more throughout my lifetime. A mix of comfort, controlled statement pieces, and embracing my femininity by showing off my curves/tattoos.
What designers are you loving these days?
I am always so enamored by Maryam Keyhani. She's an Iranian designer, and her hats and silhouettes are truly one of a kind. She also paints her magical world into life, creating a bridge with the surrealist way she chooses to live her life.
If you know me, you know I'm obsessed with Baggu bags. I love how they determine their silhouettes and reimagine the way a bag slouches — its purpose. They also work hard to source sustainable fabrics. I loved their leather line & have lots of their bags in my rotation — also a zillion of their reusable bags that fold back up. Carla Colour for sunglasses - I have one pair that I've been wearing for years and I love love love them. Also Susan Alexandra beaded bags are just way too fun.
It's out of my price range but I really love Ganni. I'd love to add some of their boots to my closet.
Older Brother US just made the most beautiful autumn winter collection. The puffer vest in mushroom is to die for (another dream of mine to own), and everything from the puff to the stitch is sustainably sourced. I just love how transparent brands are being nowadays.
For homewares I love anything and everything Dusen Dusen. Towels, trash can, masks, bedding — I love it all. For statement mugs and vases, I'm newly addicted to local brooklyn ceramicist, Ceramicism.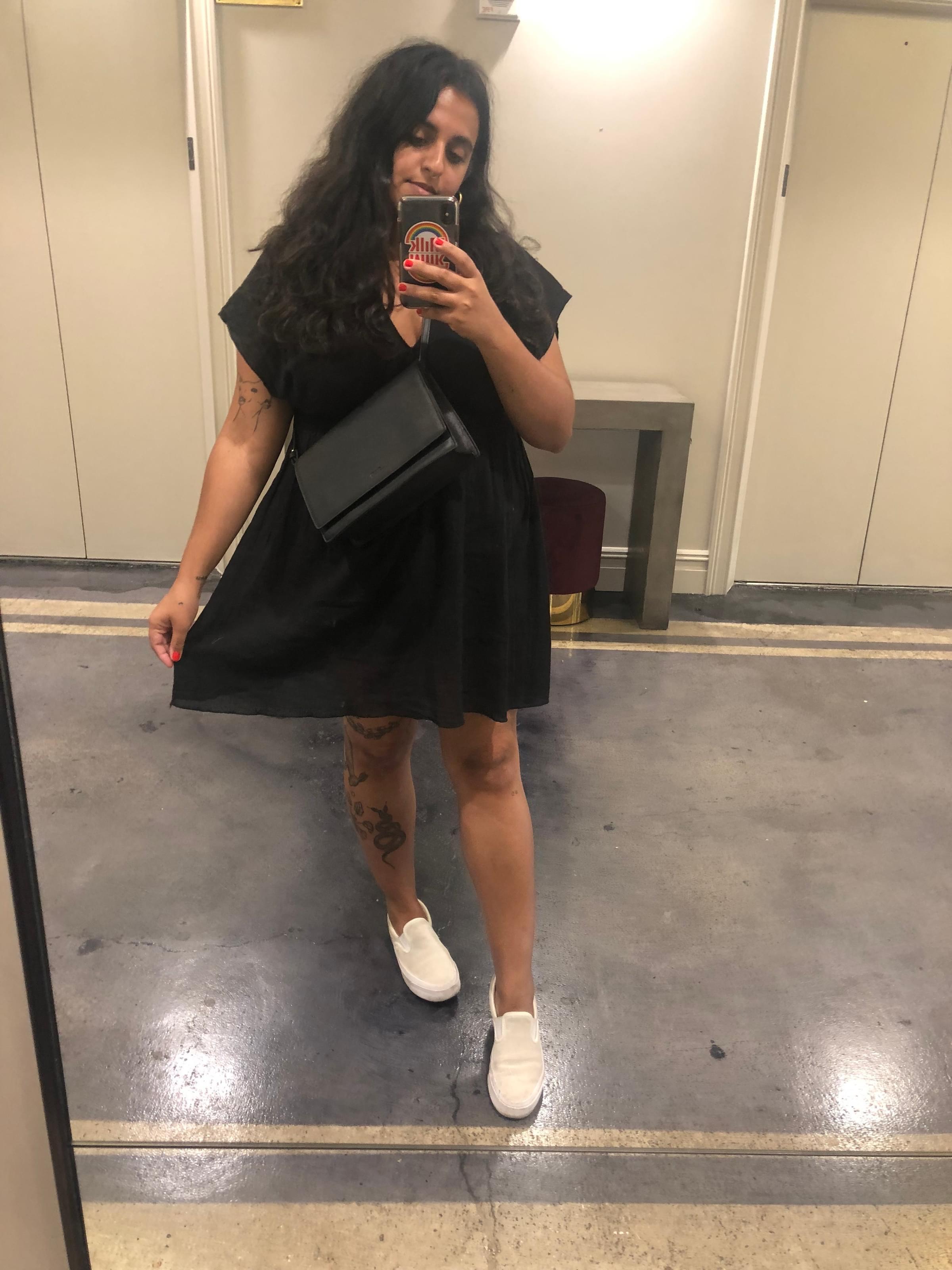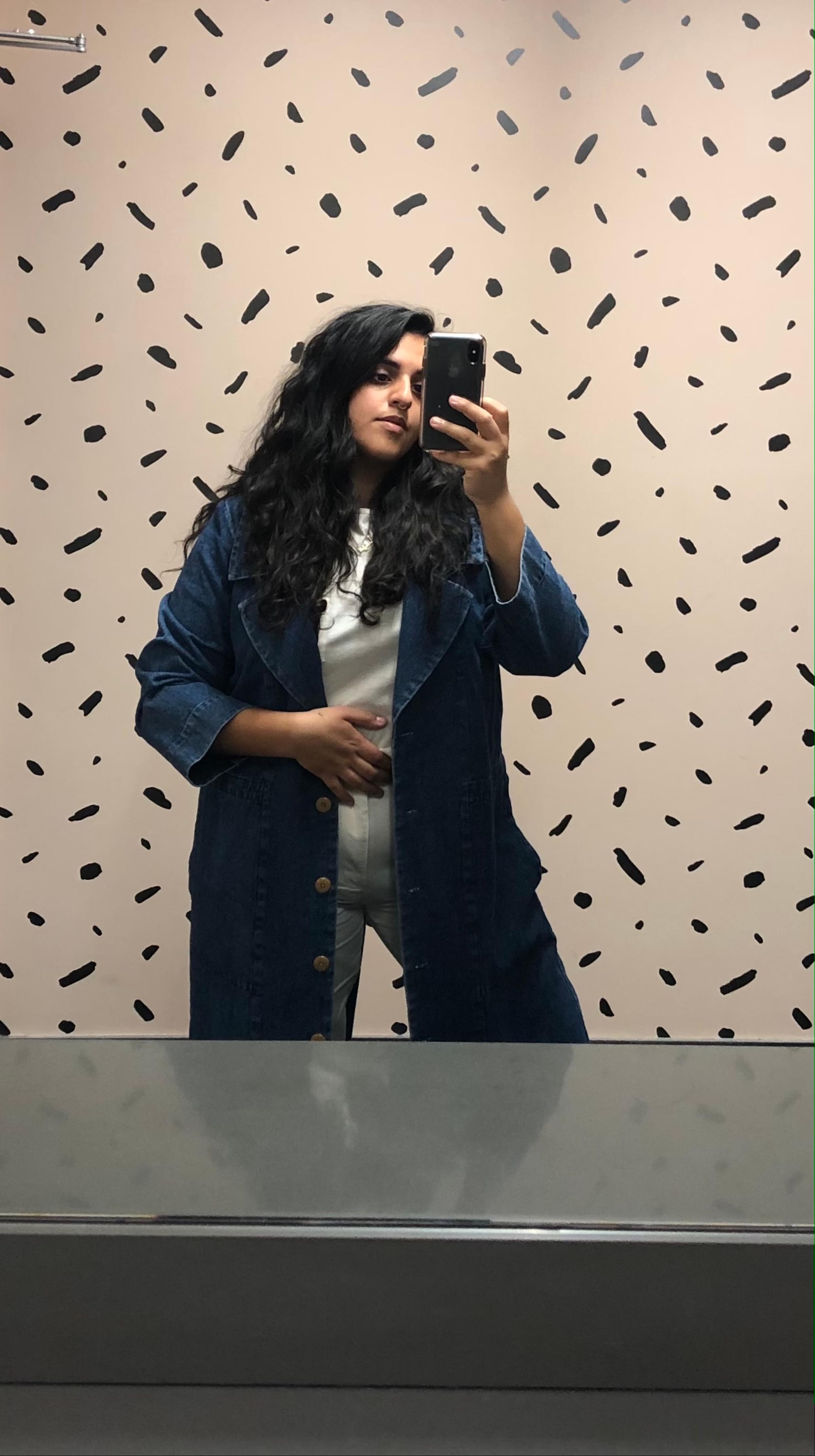 What is your favorite Noihsaf score?
Okay so this is actually an amazing story. After YEARS of trying to find the Ilana Kohn Denim with Shearling Mabel coat, I finally saw one pop up on my grid, 'posted 5 seconds ago.' The username was so long, and I remember panic typing it quickly in order to be the first commenter.
I won the coat, BUT it was a size Medium. I'm normally a L/XL because I have a larger bust. I've bought IK coats before and have gotten lucky with the fit of smaller sizes (especially with the Denim Duster,) but when this one arrived, it was unfortunately too small to fasten comfortably.
I saw another of the same coat posted on the NB timeline, and I commented something like, "Hey, if this L doesn't work for you I have an M I can trade you." I got a DM from another totally separate person saying she had an XL brand new, never worn and wanted to trade for a M. The one I had gotten also had never been worn, so I took the risk and did the swap. It fit me perfectly! I wore it out on a rainy night and tagged NB, which is when you reached out to me. So this coat is DEF the best score so far.
Picture this: One day, you wake up and everywhere you go people start sniffing around you wildly. At first you're self-conscious and a bit caught off guard (what is UP with all the smelling???) but then realize it's a positive reaction. Everywhere you go, people exclaim, "What is that exquisite smell??? IT IS SO GOOD, WOW. Wow, just wow." This completely illogical phenomenon (you smell as you have always smelled!) lands you an unthinkably extravagant fragrance deal with Paris's premier perfumer. You're on set for a commercial advertising your fragrance; what are you wearing, head to toe??
Oh!! That's an easy one. I'd wear the May Queen flower dress & crown from Midsommar. I'd also love to have everyone around me wearing all white and focusing on body movement/dance while I stood perfectly still, just like in the film. That would be my DREAM.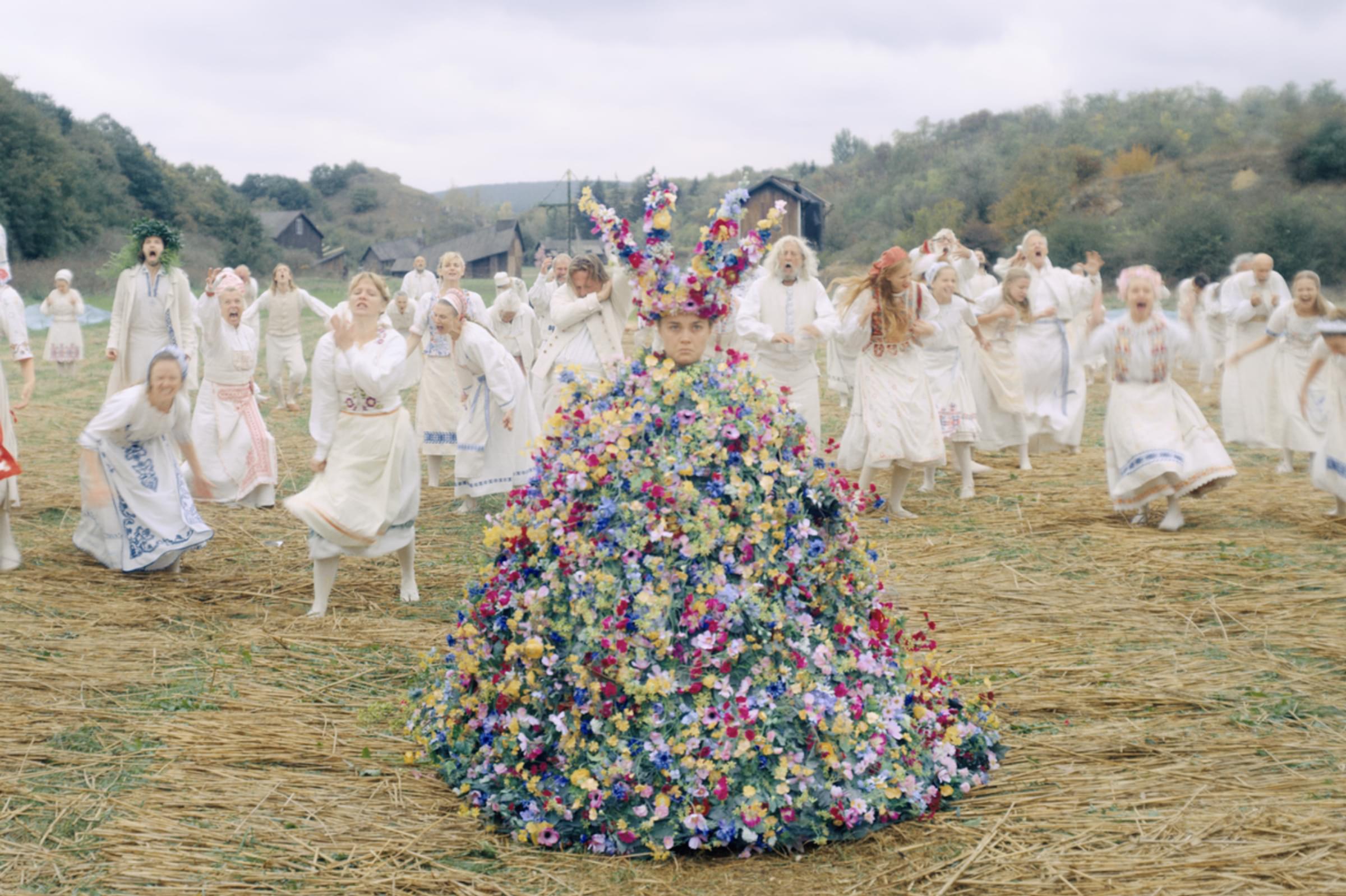 What is playing on the stereo as you dress yourself?
Ooooh!! 2 way tie between:
Gimme! Gimme! Gimme! (A Man After Midnight) by ABBA

Upper Echelon by Travis Scott, T.I., and 2 Chainz
THANK YOU MICHELLE!