April 27, 2021 — Interviews
Written by

Lydia Okello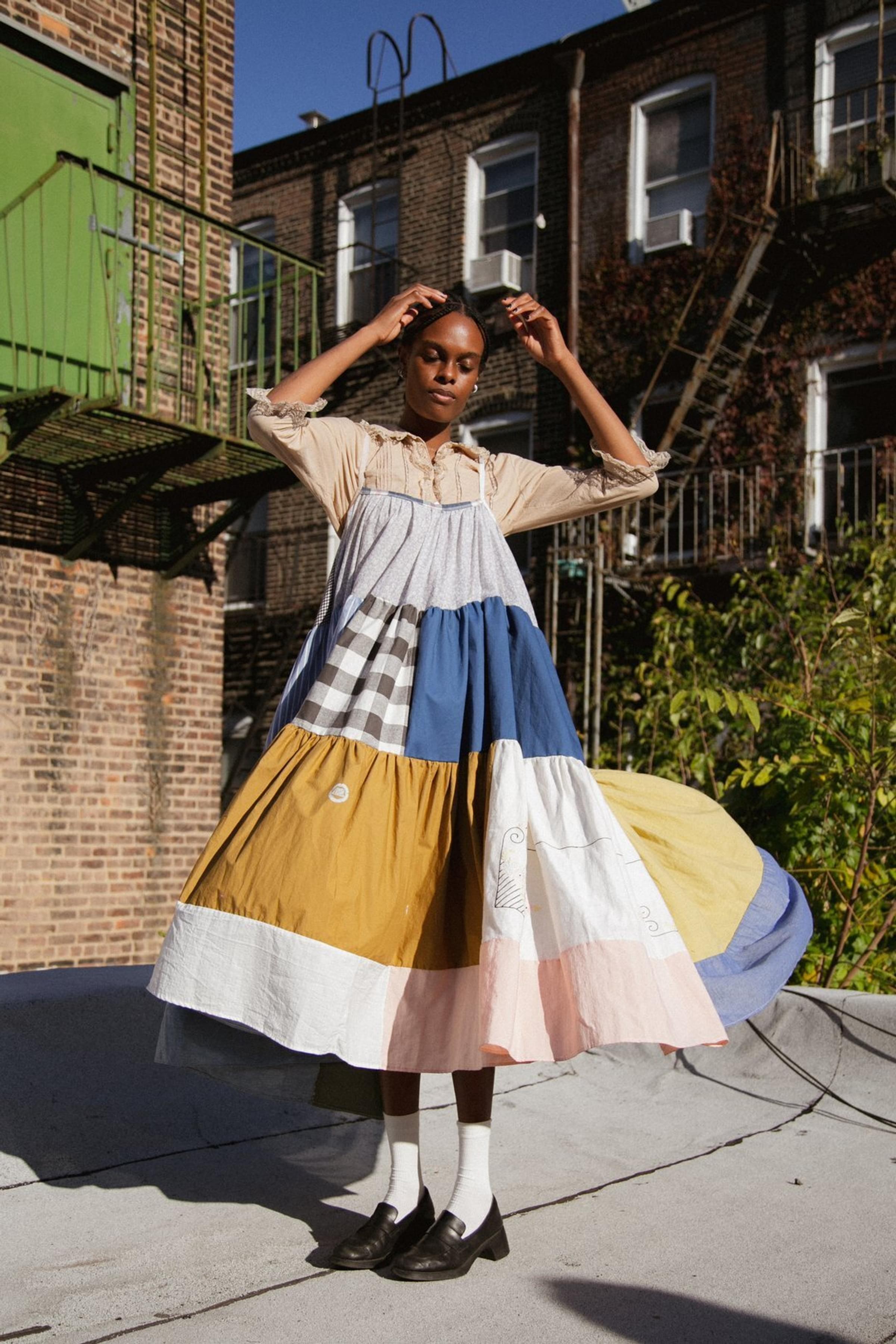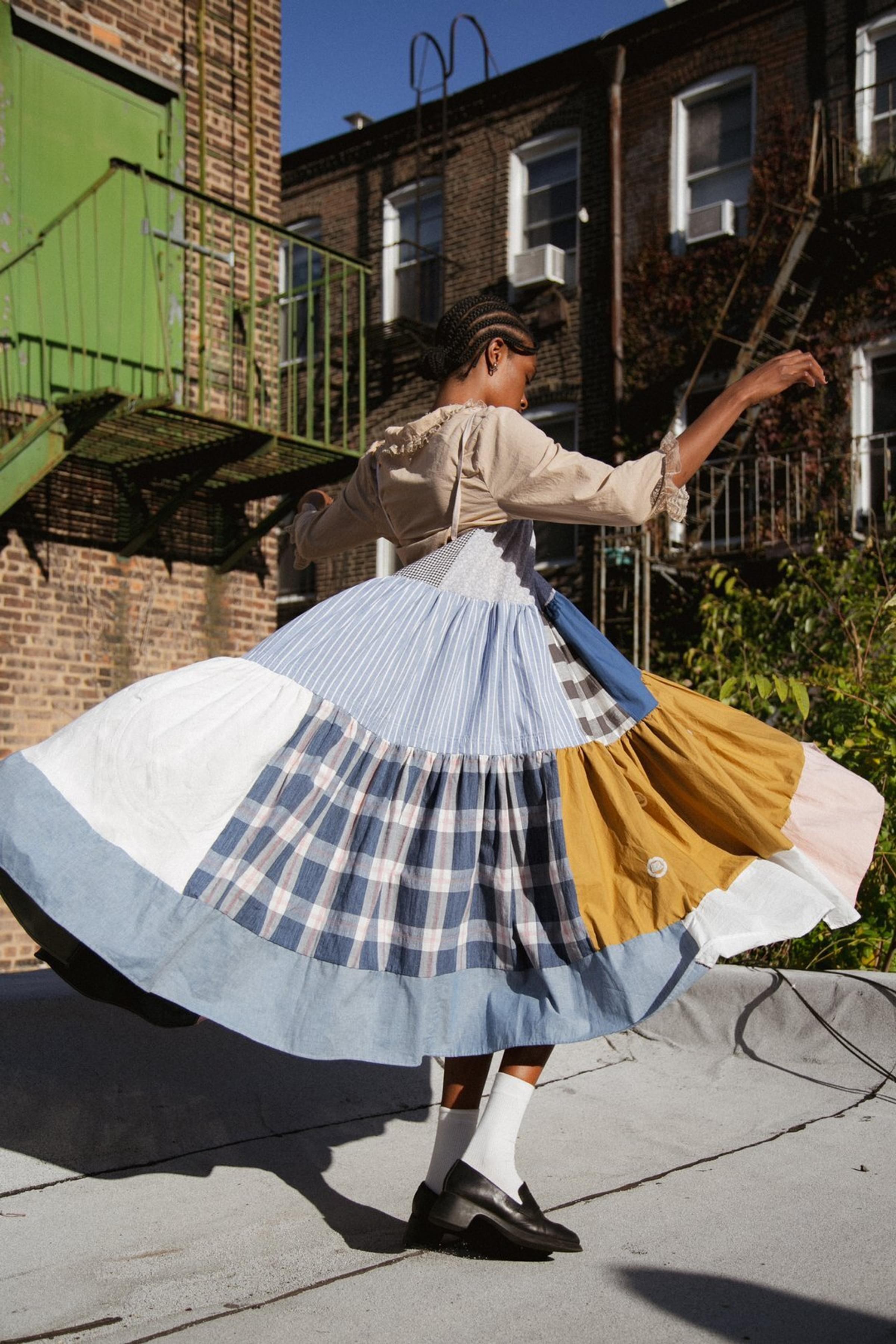 What's old is new again; La Réunion is a labour of love. The project is helmed by self-described "daughter of immigrants, lover of vintage, and aspiring storyteller" Sarah Nsikak, a 29 year old textile artist & designer working in Brooklyn, NY. An affection for clothing is what led Sarah to the fashion world, but after years of sobering industry experience, her career came to a crossroads. Here, her work found refreshment and new life. "I make textile art and clothing using textile waste from other brands and from vintage items like tablecloths, sheets, napkins, etc.", Nsikak states. "I began designing my own garments out of a place of conviction and hope for a better way of participating in a world that has so much beauty, but felt irresponsible and destructive." Sarah utilizes familial knowledge in her practice, passed down by her Nigerian grandmother as the Nsikak family made a life in the USA.

Writer Lydia Okello interviewed Sarah last summer for our new blog series and we are thrilled to have it finally see the light of day!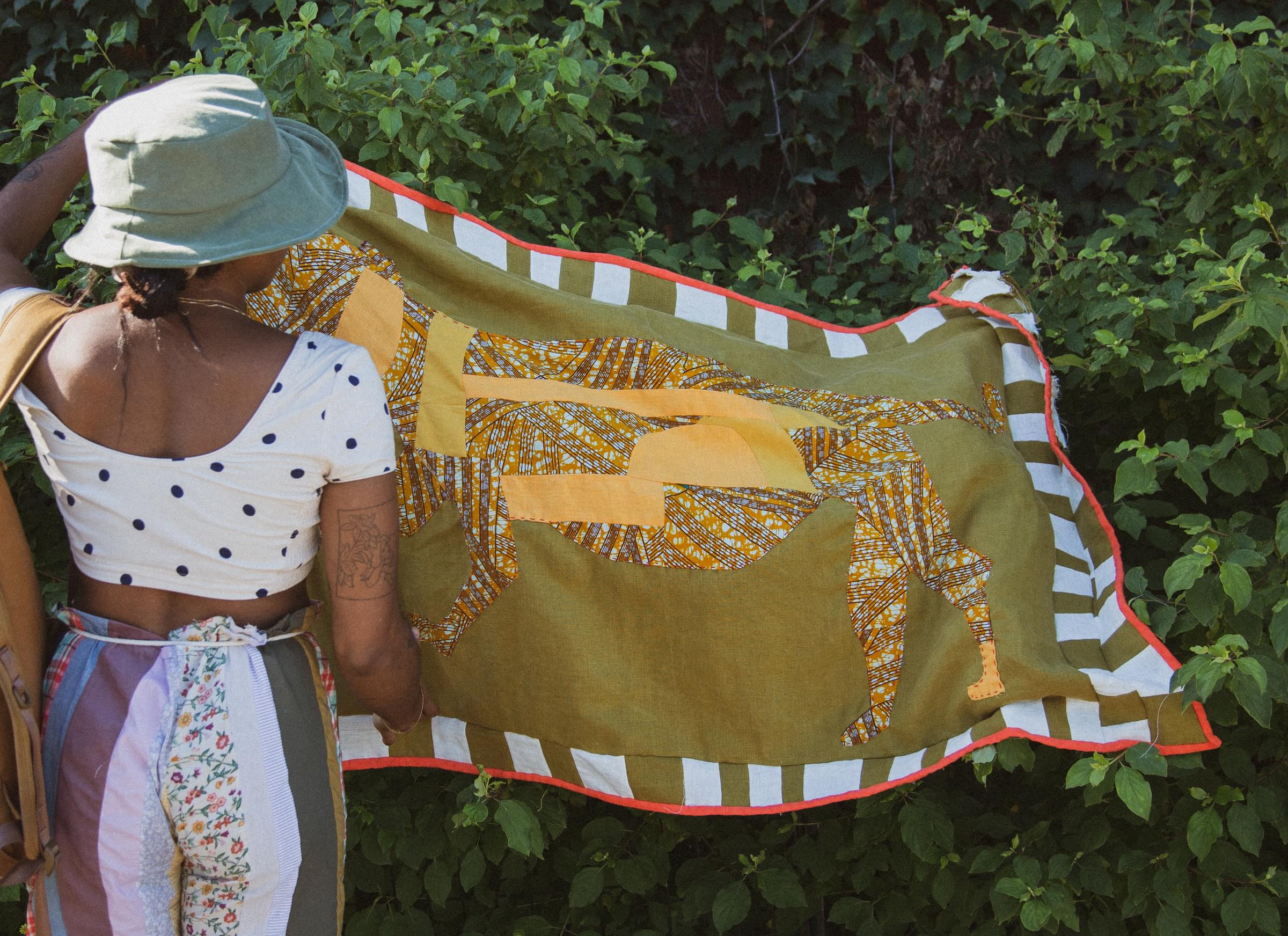 Lydia Okello: You were born and raised in Oklahoma as a first generation Nigerian American. In listening to you speak on the Close Knit Podcast, you talk about getting Nigerian garments made growing up, as well as receiving textiles from Africa. How does being Nigerian and also being American inform your work?
Sarah Nsikak: The duality I grew up with is a heavy inspiration for my work. I love American quilts and the stories that quilters from around the country told through their art. They have always been real treasures to me; [treasures] that take so much time and care to create. My work is a fusion of African inspiration and folk African American influences. The women of Gee's Bend are some of my heroes. Their quilts are immaculate; you can truly feel the emotion woven into each one.

LO: Your grandmother taught you to sew. Do you see references to pieces of her garments that she made for you in La Réunion? Do you feel like you emulate her in your work?
SN: I don't think my work is very similar to my grandmothers because our influences are unique to our life experiences. She would probably be so confused by me making garments (coming soon) that are inspired by menswear. I loved her hyper-femininity and respect it, but it's not something I identify with or reference in my work.
LO: The name of your brand comes from a small island near Madagascar. What is your connection to this remote location?
SN: I feel a connection to Africa as a whole. Because of colonialism, my family doesn't know what our ancestry looks like. I choose to lift up and tell the stories of Africa and every remote corner of it. La Reunion is a very tucked away place with a large indigenous population and so much lush green beauty. I loved discovering it, and felt it was the perfect metaphor for all the stories I plan to share about Africa as a tiny, gem-of-a-place that's quietly brilliant. I also love the beach culture of Africa; that is one of the feelings I want to communicate through my brand. This project is about reconnecting with foundation stories. I believe that so much was stolen from Africa and none of the proper credit was given. I have a resentment about this that can slowly begin to reconcile through the sharing of these stories.
LO: You've been cited as inspired by the Namibian women of the Herero tribe. There is a history of rebellion and resistance in their patchwork garments. Tell me more about them; How did you come across these garments? How do they influence the patch-worked elements of your pieces?
SN: I first read about the Herero tribe a few years ago, around the time I moved to NYC. I was doing personal research because I felt this persistent, nagging frustration that African art was never a point of focus in my studies. Meanwhile, so many artists and designers are inspired by Africa, yet many weren't paying tribute in any way. I looked up textile art by African people, and after some time gasping at the work by the women of Gee's Bend, I stumbled upon images of the Herero women. I couldn't stop searching for more images of them. I was enamoured and also offended that their story was so new to me. I read about how the Germans tried to wipe out their tribe in the 19th century, and how they now wear the reimagined styles of their oppressors. It is a sign of resiliency, and it's what Black people around the world have been doing since the beginning of time. To make emphatically beautiful something what was initially a symbol of pain and suffering is an act of rebellion and a sign of immense strength. Their stories are some of the most powerful and important that I've ever heard in my life. They were transformational for me as an African American woman still searching for a deeper sense of identity.

La Réunion uses leftovers from the fashion industry as well as vintage cloth, patchworked into diaphanous dresses that float beautifully. Each dress is unique and custom-made. The dresses are inspired directly by the Herero women, who are "symbols of resiliency and strength after overcoming attempted Genocide in the 19th century. These dresses are art pieces meant to empower, embolden, and inspire---all while telling the stories of Africa." In regards to the individual designs, "I map out all the dresses first. I rearrange them often to get it just right; it feels like a very gratifying puzzle. Customers tell me their preferences and I create a palette based on that."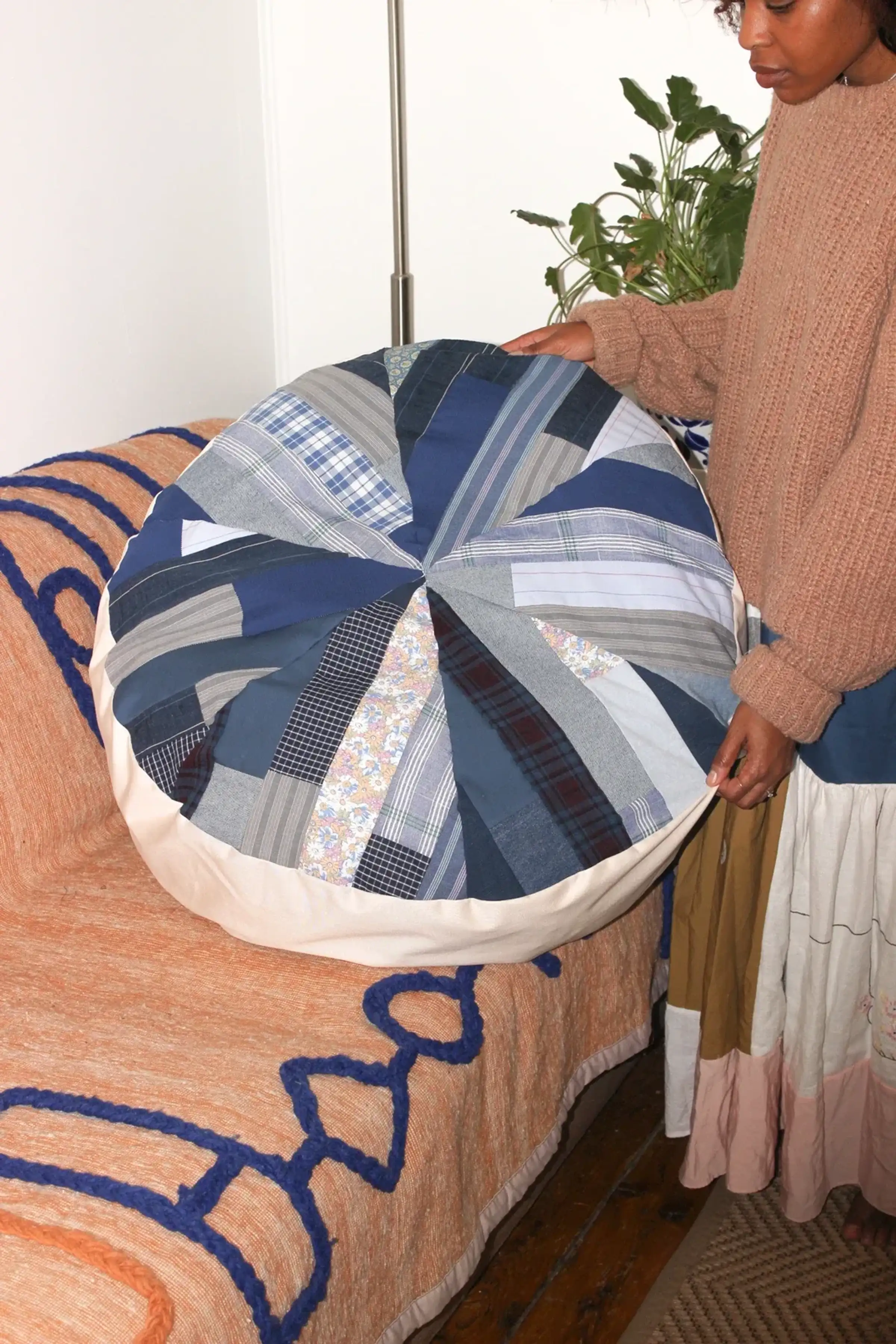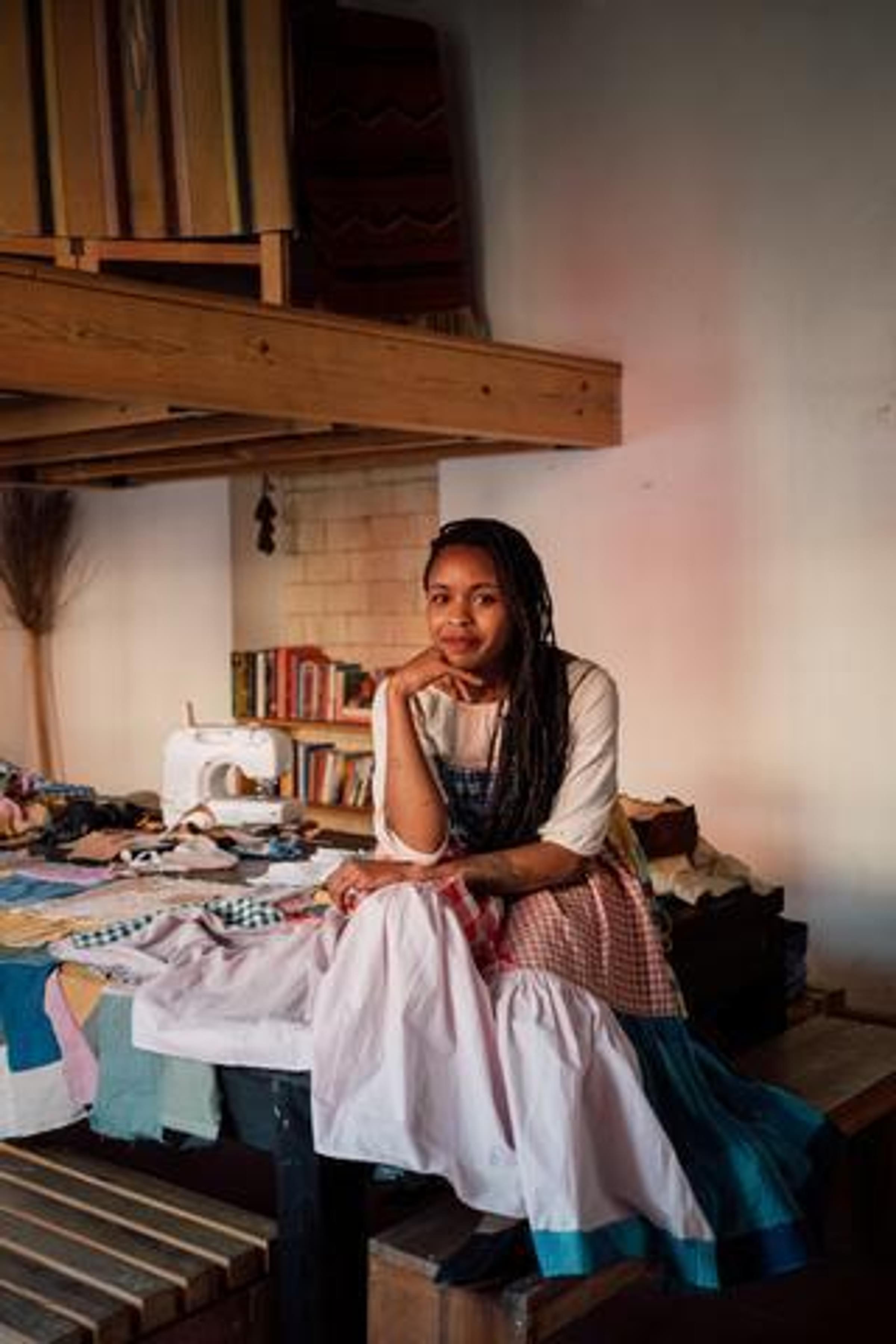 LO: La Réunion is also textile art. How did you come about creating non-clothing pieces?
SN: I began this project as an art practice. The clothing was something I later incorporated. I knew I wanted to be very thoughtful about any clothes I produced after experiencing the wastefulness of the fashion industry firsthand. The art pieces were exciting for me because I was able to utilize so many scraps and waste that came from the fashion brand I've worked for over the years.

LO: What do you think of the 15% Pledge? Do you think it's something that is trend-driven, or something that could spark longevity for Black business to be included in stock at major retailers? Or do you think it's something else entirely?
SN: I am anti-capitalist, and I am not a fan of the 15% pledge. I disagree with the idea of asking companies to give Black businesses a shelf in their stores containing hundreds of other brands and calling that equity. All it does is put a very advantageous bandage on the problem. It's no sweat off these companies' backs to give a little shelf space to only 15% Black companies, but it makes them look like saviors. The already thriving companies end up making more money at the end of the day, and the 15% Black-owned companies are also paying the companies for the space they now occupy. Many of them are forced to compromise the integrity of their product just to appease the whims of corporate America. I don't think we can fight racism with capitalism, because the two things exist to be together. The consumer has to make the choice to seek out Black-owned businesses; get on Etsy, not target.com and Amazon. It's a convenient PR moment for them to host us now. I do think the exposure can help Black-owned companies grow, but I don't think it's a long-term solution for a very deep systematic issue.

LO: Where do you think "fashion" or garments are headed? What does the future of fashion design look like to you?
SN: I think people will slowly begin to understand that fashion should be slow. We need to reimagine the process and the costs of labor. I'm hoping for fewer seasonal collections, fewer fashion shows, and more significance and thoughtfulness from the brands that survive this necessary leveling of the industry.
LO: What would you say to other Black creatives and African creatives who are interested in getting into fashion and garment making? Please impart any wise advice from your time in the industry, and as an artist.
SN: I would say be very thoughtful about what you make because we are responsible for the waste we generate and the longevity of a garment. Try not to go off of trends or what you think could be mass produced for a big profit margin. It's worth it to make things slowly and with intention.

Originally, La Réunion was assembled in Sarah's apartment. Now she's moved to a studio in Bedstuy and is there almost every day. "It's an isolated space that feels like a little bubble where I fully tune out the world and create." When asked how she's finding creativity and inspiration in the midst of a social uprising, pandemic, and recession, Sarah speaks with refreshing candor. "It's very hard. Not with much grace...I love films! My Criterion Collection subscription has served me well. Escapism can be very valuable."

As La Réunion gains traction, there are plans to grow the offerings. "There are new designs coming and more stories of Africa to accompany them. It will be a fun Fall season for us!" In the process of honoring untold heritage and centering African narratives, there are countless stories to share with the future collections from La Réunion.

Lydia Okello
Lydia Okello is a plus size, nonbinary writer, model, and creator based in the unceded territories of Musqueam, Squamish, Tsleil-Waututh Nations of Coast Salish peoples. Working in fashion for over 15 years, Lydia created "Style is Style" in 2008. Initially a personal style blog, Style is Style has now expanded to various social media channels. They are passionate about inclusive, ethical and sustainable fashion and the expression of style.
Select media features include Business of Fashion, New York Times, Elle UK, FASHION Canada, Man Repeller, The Strategist, Refinery29, BUST Magazine, and Buzzfeed.